SpaceX's Hyperloop Pod Competition is Off and Running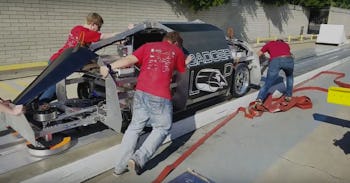 University of Wisconsin-Madison BadgerLoop Team
College teams around the nation will get a crack at Elon Musk's brainchild, the Hyperloop, this weekend at the SpaceX Hyperloop Pod Competition, and some of the first footage of teams getting ready for the event has just been released.
The contest is all about proving that Hyperloop is feasible, and having a bunch of college kids design pods that can travel along a mile-long track at around 240 mph is a pretty good proof of concept. The Hyperloop Pod competition is happening January 27-29, on a test course built on the SpaceX grounds in Hawthorne, CA. There will be 30 teams competing with Hyperloop pods they designed and have been building for the last year. The University of Wisconsin-Madison's BadgerLoop team, which came in third in the initial design competition, has released footage of their pod already.
The contest was open to university students and independent engineering teams, and of the 125 initial designs, 30 teams were selected to compete. The teams are trying to get their pods to impress the judges on five points: levitation, braking, control, high-speed acceleration, and telemetry.
None of the pods will hold actual people, but they have to be large enough that they could hold a person — although they do not need to have a human compartment and can be designed just for cargo movement. MIT's team won the initial design contest a year ago without a human compartment, and are definitely a team to watch at the competition this weekend.
After a number of delays to the competition because of the time it took to build the actual Hyperloop track, the contest is finally ready to get underway. The tube is about a mile long and ready to fit those pods, which Elon Musk seems pretty proud of.
The teams have been in Hawthorne for the week, undergoing a series of inspections from SpaceX employees on the structure and mechanics of their pods.
The University of Wisconsin-Madison team's pod weighs 2,100 pounds and is designed to carry a person who is six-foot-two — or someone as tall as Musk, according to the Teslarati blog. They've released a video of themselves doing the track-fit test in preparation for this weekend and their attempt in the tube, which is scheduled for Sunday.