Eleven From 'Stranger Things' to Star in 'Godzilla' Sequel
The world can't get enough of Millie Bobby Brown.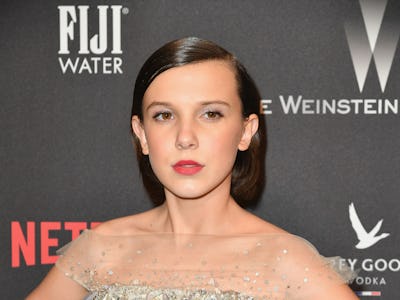 Getty Images / Earl Gibson III
In the summer of 2016, 12-year-old Mille Bobby Brown showed the world that she could hold her own against a gruesome monster. The charismatic young actor captured fans' imaginations in the Netflix hit series Stranger Things. And according to The Hollywood Reporter, Brown will make her big-screen debut in 2019, starring in Godzilla: King of the Monsters, the sequel to 2014's Godzilla reboot.
Borys Kit reports for THR that the film will be directed by Michael Dougherty, who directed and co-wrote the holiday horror comedy Krampus. Zach Shields, one of Dougherty's Krampus co-writers, will also collaborate to write the new Godzilla picture.
"King of Monsters is part of a giant monster cinematic universe that also includes Kong: Skull Island," reports Kit. "Kong is due to hit theater March 10 while King of Monsters is scheduled for a release on March 22, 2019." The 2014 Godzilla reboot premiered to solid critical reception and box office numbers, so we hope the new one gives Brown a platform worthy of her talent.
Brown's starring role was just announced this week, so plot details and character specifics are still a big question mark. But after seeing Brown face down the practical effects Demogorgon as Eleven in Stranger Things, we're looking forward to seeing this talented young actor hold her own against a towering CGI monster in the upcoming Godzilla film.