Obama's Kitesurfing Vacation Photos Are Made for Memes
He's been hanging out with Richard Branson.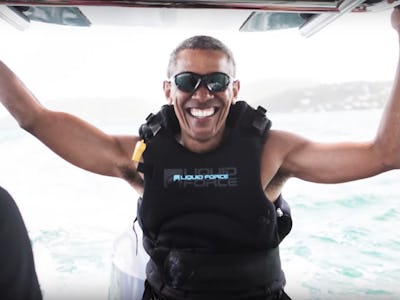 Getty Images / Chip Somodevilla
After a long eight years in office, former President Barack Obama deserves some vacation time with his family. He and Michelle have reportedly been spending some time on the British Virgin Islands Moskito Island with Virgin Group Founder Richard Branson. The two bros recently went kitesurfing, and it looks like Barack's having a grand ol' time — thusly, ~ The Internet ~ has taken some time to crack some jokes and meme Obama's adventure away from Trump's America.
Obama has been spotted hanging out on Branson's private island for the past week, hitting top chill levels by sporting a backwards hat. He's been kind enough to wave at some fans. Meanwhile, it looks like Michelle totally DGAF and just wants to hit the beach (rightfully so). In January 2016, the American public was also treated to some hilarious photos of the Obamas' Hawaiian vacation.
On Tuesday, Branson uploaded a video of his buddy partaking in some kitesurfing, along with some footage of Obama totally wiping out on the water.
While seeing Obama smiling like never before is enough to charm anyone, people everywhere jumped on the opportunity to poke some fun at his vacation pics. Twitter has erupted with plenty of hilarious memes about Obama's time on the island.
Could his hat placement be a secret message?
We miss him so much already.
Maybe this amount of happiness can revert the effects of aging.
Thinking of old times.
Honestly, he and Michelle have the right idea.
It kind of feels like he's ghosting the rest of us.
Barack knows how to win a breakup.
White House? More like Swole House.
Hmm, does it have anything to do with those alleged golden showers?
Of course, this isn't the first time that the internet had a field day with Obama. Near the end of his presidency, social media was totally obsessed with his friendship with Joe Biden, spurring a long list of memes about the then-vice president pranking Donald Trump while Obama shook his head.
What's next for Obama? Probably some piña coladas with Michelle and Branson while laying in the sand.