Trump Demands His Staff Review EPA Reports Before Public Release
It's the latest in a series of actions that target the EPA and scientists who work to combat climate change.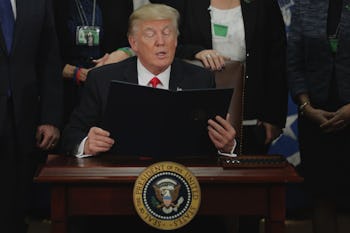 Getty Images / Chip Somodevilla
The Trump administration issued a mandate Wednesday requiring any research from the Environmental Protection Agency to be reviewed by "political appointees" before it can be released to the public.
The move is in violation of the EPA's Scientific Integrity Policy and represents a drastic increase in government oversight. It also heightens the chilling effect and atmosphere of censorship that has spread over entities working on behalf of science and against climate change in the days since the inauguration.
The mandate, as reported by the Associated Press, comes on the heels of a freeze placed by the White House on all EPA grants and contracts — meaning the agency's funding — and ordering it to get rid of its web page on climate change.
Doug Ericksen, the communications director for Trump's EPA transition team, told the AP that "climate stuff" would be handled on a case-by-case basis and that "[e]verything is subject to review." The night before, he told NPR that scientists will likely have to undergo internal vetting in order to be granted permission to share their research with the public.
White House Press Secretary Sean Spicer said Wednesday that there was "nothing that's coming from the White House, absolutely not" attempting to censor government entities working on behalf of the environment. He instead blamed any censorship on the EPA for violating the Antideficiency Act and anti-lobbying bans under the Obama administration, seemingly referring to a 2015 ruling by the Government Accountability Office that the EPA had engaged in grassroots lobbying to push Obama's environmental agenda and "demonize" farmers and ranchers.
In addition to climate change research, the AP notes that the new climate of censorship could affect EPA funding of programs for drinking water protection and hazardous waste oversight.
The Scientific Integrity Policy states that "[t]o operate an effective science and regulatory agency like the EPA, it is also essential that political or other officials not suppress or alter scientific findings."