Here's the Mysterious Song in Netflix's 'Travelers'
Netflix has answered the most burning fan question about 'Travelers.'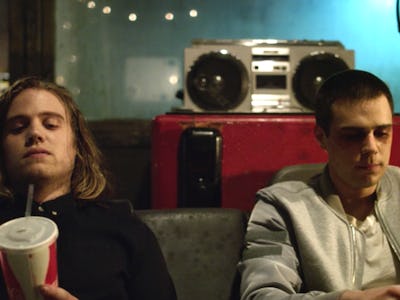 Netflix 
Netflix's newest series, Travelers, is a sci-fi adventure about an unusual cast of time travelers. Instead of using a machine like a DeLorean or TARDIS to physically move through time, they attempt to change the future by transporting their consciousness into host bodies living in the past. The show is high-concept enough to be engaging, but it also doesn't require spending hours on Reddit just to understand what's happening. It's the straightforward sci-fi show for those who need a breather from ultra-complex sci-fi shows like Westworld or Netflix's own The OA.
But the series isn't without its mysteries. One comes 43 minutes into the third episode, "Aleksander," when heroin addict Philip Pearson (Reilly Dolman), sits in a garage listening to a catchy French-sounding song. He's joined by would-be high school student Trevor (Jared Abrahamson) and the two share a moment laughing about their current situations in their host bodies ("Don't you have a test in the morning, or something?" Philip asks. "Yeah, but I don't gotta study for this one. It's history," says Trevor. Time-travel humor!)
The song — mellow yet energetic, smooth yet pulsing — sent many fans rushing to ask Netflix what was playing. And the streaming network has an answer: Netflix revealed to Inverse this week that the song is called "Boisson de Mon Sang," and it composed by Phillipe Boveste, Sammy Drazin, and Shannon Kaeding.
Here's the entire score for the third episode.
Travelers is currently streaming on Netflix.