'Rick and Morty' Delayed Because Creators Can't Stop Arguing
"Yeah," Dan Harmon told Sundance. "We fucked up."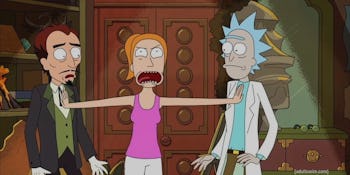 Adult Swim probably couldn't predict that delaying Rick and Morty's Season 3 premiere date would result in a fandom meltdown, but each day further into 2017, fans seem to plunge deeper into their anxiety. In a recent Sundance interview, co-creator Dan Harmon says he and Justin Roiland have been feeling the pressure. "If Justin were here he'd agree," Harmon said. "He and I would go, 'Yeah, we fucked up,' and it's hard to put your finger on how we fucked up. 'Rick and Morty' keeps taking longer and longer to write, and I don't know why."
Harmon went on to describe the elevated stakes affecting the Rick and Morty writers, admitting that the team isn't sure why Season 3 has been so difficult to write. "We have fights all the time and then we have fights about why we're having fights," Harmon said. "Well, we didn't fight during Season 2, that's why it's taking longer! All this fighting! So okay, let's stop fighting!"
Even without further inside information, it's not difficult to imagine what's dragging the Rick and Morty team down. What was once described as a runaway hit has now become — in its third season — Adult Swim's crown jewel of programming; the show brings in in more views for the network than all of its other shows combined. It was one thing for two quirky TV writers to collaborate on a passion project based on Roiland's indie cartoon. Producing one of the most popular and critically acclaimed adult cartoons in recent memory is another endeavor entirely.
Harmon's candid comments at Sundance, in conjunction with his emotional recent tweets, should inspire empathy in the legions of fans demanding a Season 3 premiere date. Though we haven't seen a new episode of Rick and Morty since October 2015, creative work often needs room to breathe.
Rick and Morty currently does not have an air date set.