'Overwatch' Chinese New Year Skins Aren't Offensive After All
Everyone's favorite gorilla scientist actually has a touching backstory.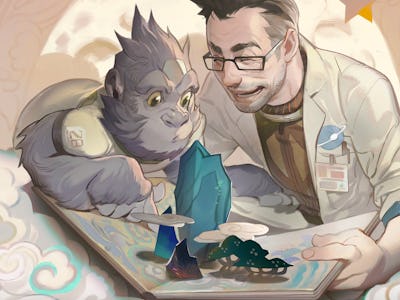 The Overwatch holiday comic made Tracer's sexuality canon, but it also put Winston's intense loneliness on display. Now, as part of the in-game Lunar New Year celebration called "Year of the Rooster," Blizzard has released a tapestry-styled comic by SHISHIO called "Winston's Journey to the West". The story, as Blizzard describes it, "recounts one of China's oldest and most revered pieces of literature through the eyes of everyone's favorite gorilla scientist." Fair enough.
Through the swirling dreamscapes presented in the tapestry, Winston experiences the widely beloved Journey to the West, which was a story he read with his mentor, Dr. Harold Winston, on Lunar New Year some time ago at their outpost on the moon. In an official blog post from Blizzard announcing the tapestry — and in the animated version of it produced by Madefire — the tale is described as the following:
"Journey to the West is a sweeping tale that soars between a mythological Earth and the glorious heavens, portraying demons, gods, and heroes clashing in mighty battles."
Best of all, in this representation, Winston imagines himself and several of his companions from the game as characters, like Tang Sanzang, Zhu Bajie, Sh Wùjìng, with himself occupying the role of "the mischievous Monkey King, Sun Wukong" … which is where we get a number of the skins for the in-game "Year of the Rooster" event. Below, we see artistic versions of Zenyatta's Sanzang and Roadhog's Bajie skins:
Winston also (obviously) gets a skin as Wukong, and Reinhardt dons the armor of Wujing with an accompanying ax:
But the following bit of exposition and accompanying image offers one of the most heartwarming sentiments we've gotten from Overwatch:
"Every Lunar New Year, Winston is reminded of his younger days. Growing up in the lunar colony had its trials, but it also had its treasures. Exploring this story with his mentor will always be one of his most cherished memories."
Overwatch's "Year of the Rooster" event is currently live from now until February 13, 2017.