In Europe's First Forensic Cemetery, Corpses Decompose for Science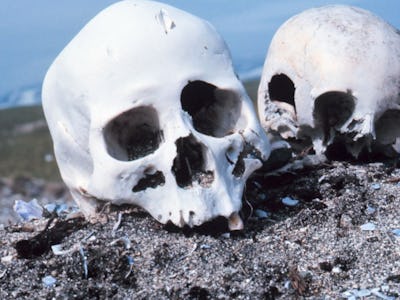 Wikimedia Commons
By the end of 2017, the number of the world's "body farms" will be brought to eight with the opening of the first taphonomic cemetery in Europe. Based in Amsterdam, the 500-square-meter facility will be used by scientists to study the decomposition of human bodies under natural conditions.
By studying human decay, scientists not only gain a more intimate understanding of the body but also knowledge that will contribute to solving forensic crimes — the sort of scenarios you see played out on Bones. When a person dies, microbes begin to multiply and break down the body — but the details of how long they take to do so are still a mystery. Forensic cemeteries give scientists the opportunity to carefully examine this process and allow them to develop more efficient methods to pinpoint a person's time of death, rather than relying on body temperature or insects that have encountered the deceased.
The Amsterdam plot will contain bodies donated for science in graves one meter deep and will be used by scientists affiliated with Amsterdam's Academic Medical Center, the Dutch Forensic Institute, the National Unit of police, and researchers from various Dutch universities. The reason for burying all the bodies — some American facilities leave some bodies to decompose above ground — is both practical and scientific: Unburied bodies create a security concern as drones may be used to film them, and murderers in the Netherlands typically bury their victims, so observations made on buried corpses would be more useful.
The necessity of this forensic cemetery isn't just a superficial come-up for European scientists — the bodies buried here will decompose differently than the bodies in the six American sites and Australia's singular site because of the local ecology and climate. Different soil microbes are a particular factor that influences the way that a dead body changes.
"I think there are very good reasons to open one in Holland, and in other places in Europe," Dawnie Steadman, director of the University of Tennessee's Forensic Anthropology Center, tells Science. "What we do in Tennessee is not directly transferable to Holland, or England, or South America, or Africa for that matter."
The Amsterdam site doesn't have a specific opening date, but representatives say it will be operational by the end of the year. European scientists will soon be able to examine the natural process of death out of the morgue and into the earth.