How to Get Started in 'Gravity Rush 2'
Turns out gravity manipulation isn't easy.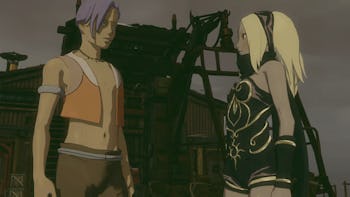 Nicholas Bashore
The sequel to Gravity Rush, the aptly named Gravity Rush 2, released on the PlayStation 4 a few days ago, bringing Kat's gravity-shifting adventures to new heights thanks to the added power of the console. While many of Gravity Rush's core mechanics remain at the heart of Gravity Rush 2, the game also introduces a few new combat styles, gravity-based powers, and massive environments filled with secrets to uncover. If you are new to the series, diving in can be a little frustrating. Were here to help make your first few hours a little easier.
Here's a few tips and tricks that will help you get started in Gravity Rush 2.
Work on Using the Camera
If you haven't played the original Gravity Rush, you'll probably have a difficult time getting used to the gravity-based movement and combat mechanics at the heart of Gravity Rush 2. Since using gravity-shifting powers are at the very core of the game, there's no shame in spending a few extra hours practicing during the opening to get used to controlling Kat while manipulating gravity. Get used to centering the camera after shifting gravity, maneuvering the camera around during combat, and chaining together different gravity attacks on enemies. Trust me, it will go a long way once you hit some of Gravity Rush 2's more difficult enemy encounters.
Turn Off Motion Controls
When you unlock Kat's gravity-shifting abilities, Gravity Rush 2 will automatically have motion controls enabled. This allows you to move your PlayStation 4 controller around to control the angle and direction of Kat's movement, but it can be a tad bit sensitive if you're looking to perfect your landing locations or nail a specific gravity-based attack. With a bit of practice, both the analog stick and motion controls can be used in tandem, but turning off motion controls entirely makes for a much more welcoming introduction to the combat mechanics behind the game.
Use the Stasis Field in Combat
During the combat tutorial, Gravity Rush 2 tends to focus more on melee attacks and aerial gravity kicks, which are a completely viable way of fighting every enemy you'll encounter in the game. That said, Kat also has access to a Stasis Field ability which allows her to pick up enemies and objects around her and use them as weapons against her enemies. While it may not be as up close and personal, throwing objects at enemies using the stasis field is a very effective combat strategy against larger targets and hordes of enemies. Pop a few upgrade gems into the abilities first boost early, and don't forget to use it in combat when getting in close feels a little too risky.
Don't Rush the Story
Once you've completed Gravity Rush 2's lengthy introduction, you can immediately begin working your way through all the main story missions to continue through Kat's second journey. But you'll miss some important information the game has hidden within side quests by doing so. Much of the secondary stuff helps make the events of the main story much more meaningful in the long run. Make sure to set aside some time to knock out the side missions and speak to supporting characters about valuable information, bonuses, and lore that help make sense of the main story.
Explore the World Around You
Since Gravity Rush 2 doesn't put much of an emphasis on exploring the world around you, it's easy to get caught up in the various quests and activities scattered about the map. Instead of going from point to point knocking objectives off the map, though, take some time to simply cruise around and dig through the nooks and crannies that are hidden throughout Gravity Rush 2's environments for a shot at some additional upgrade gems and talismans that will make your life much easier. It's worth noting that you'll also get access to a camera, which you can use to photograph your entire journey through Gravity Rush 2 once you visit your first port city. Don't forget to use it while exploring.