Cruise Automation Posted a Video of Its Autonomous Chevy Bolt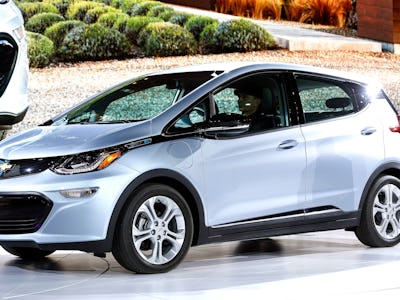 Getty Images / Bill Pugliano
On Thursday, January 19, Cruise Automation released a video of its self-driving Chevy Bolt EV navigating the busy streets of San Francisco. Shot in November 2016, the sped-up video shows the car adeptly maneuvering through the unpredictable obstacles of big city traffic: pedestrians crossing the roadway, trucks stopping halfway into traffic, and bicyclists weaving between cars, just to name a few.
This video gives consumers a first look at San Francisco-based Cruise Automation's ongoing test fleet, which has been shuttling the company's employees to work in San Francisco for months. The small tech company, which GM acquired for $1 billion in 2016, has also deployed its autonomous vehicles in Arizona and Michigan.
GM President Dan Ammann reportedly rode in the back seat of the Bolt EV for this test drive, which required no human intervention.
With the backing of GM, this small self-driving technology startup has burst into the autonomous car marketplace. Cruise Automation joins the likes of Tesla, whose autopilot software was recently cleared of fault in a fatal accident in 2016. Tesla says its newest autopilot software will reduce crashe by 90 percent over non-assisted cars.
One of Cruise Automation's cars was involved in San Francisco's first autonomous car crash in 2016, and though the accident involved some degree of driver intervention, it seems like Cruise isn't quite ready to challenge Tesla in the autopilot realm. But with GM's backing, it may only be a matter of time before that's the case.