Ranking Count Olaf's Looks in 'A Series of Unfortunate Events'
Every gender bending, age defying failed disguise.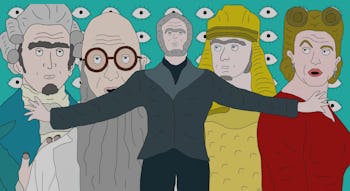 Jamie Loftus
Bringing A Series of Unfortunate Events books from page to screen took more than good casting and a blank check. Take, for example, the elaborate designs of the outfits worn by Count Olaf, the villain whose slapstick treachery is the central focus of the new Netflix adaptation. Not only were the costume designers for the series challenged with bringing the original illustrations from artist Brett Helquist to life, but there was also the matter of countering the aesthetic of the failed 2004 film adaptation of the series.
Fortunately, with the help of prosthetics and a hell of a lot of fabric, Neil Patrick Harris became Count Olaf in all his elaborate, age-defying, gender-bending wickedness. Here are out favorite looks from the first season; the next installment of the series promises many more.
Count Olaf's Main Look
When the Baudelaire orphans are unhappily foisted into Count Olaf's custody, we learn two things: He's extremely vain, and he's a complete slob. His go-to look is a dank-looking marriage of the two: a theatrical suit that was probably in good shape 30 years before he got his hands on it.
Count Olaf as Shirley
Throughout the series, viewers come to expect a series of ridiculous disguises donned by Olaf and his henchmen in an attempt to get the Baudelaire fortune (usually without success). In The Miserable Mill portion of the first season, Olaf takes his deepest dive into disguise yet, playing a very convincing and somehow kind of sexy receptionist named Shirley for evil optometrist Dr. Georgina Orwell. Like, we knew that Neil Patrick Harris would be a hot woman, but now we know.
Count Olaf's Marvelous Marriage Wedding Suit
In The Bad Beginning, Count Olaf nearly manages to steal the fortune out from beneath the Baudelaire orphans by marrying Violet in a sham wedding via stageplay called The Marvelous Marriage by Al Funcoot. (Do the math, gang. Al Funcoot is an anagram of Count Olaf!)
Count Olaf as Captain Sham
Speaking of shams, the horny sailor outfit that Olaf dons in The Wide Window to seduce Aunt Josephine (Alfre Woodward) into adopting the Baudelaires via an elaborate suicide ruse is just that.
Count Olaf as an Egyptian King for Some Reason
There are a number of sequences in the egregiously long production The Marvelous Marriage that put NPH in a bizarre outfit, but this one takes the cake.
Count Olaf as Stephano
While I'd give the edge on this particular look to the Jim Carrey rendition of ASOUE, the fake Italian accent put on by Neil Patrick Harris in Count Olaf's first disguise in The Reptile Room definitely plays opposite the gullible Uncle Monty, played by Aasif Mandvhi.
Some new, stinky-looking disguises to look forward to in Season 2: auctioneer, police office, carnival freak, hospital owner, and, of course, gym teacher in a turban. You do you, Olaf.