What Do You Want Your Virtual Reality Sex to Smell Like?
CamSoda wants to arouse people with an assortment of sensual scents.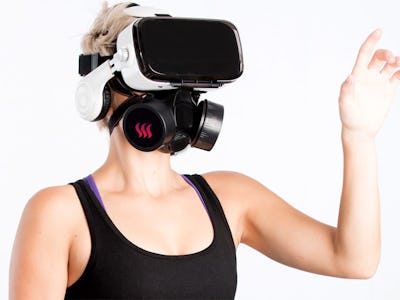 CamSoda
Adult entertainment company CamSoda wants people to enjoy the pungent smells of sex while watching virtual reality porn. Through its recently launched "OhRoma," those already using a VR headset can also put on a sensory mask that releases a slew of sensual aromas to stimulate the nose. CamSoda's campaign is the latest to use new technologies to enhance virtual reality experiences.
We haven't tested it, but here's how CamSoda says the sex-smell mask actually works: Two canisters contain three cartridge slots and users open up the mask and insert the scented OhRoma cartridges before putting it on. Once the fragrances are loaded, the mask heats up and the cartridges release their aromas. Breathers can control the loaded scents, how concentrated they emit, and even combine them all through the OhRoma app.
"We worked alongside scent and aroma marketing companies from the sensory design space. They specialize in creating and customizing odors per customer requests," says CamSoda President Daron Lundeen. "In deciding which smells to offer we wanted to provide our fans with an eclectic mix that met everyone's desires."
There's a variety of scents available to sniff, including private parts, body odor, panties, aphrodisiacs, and more. To some, nothing smells sexier than two parts body odor, one part panties.
The mask is priced at $69.99 (nice) and the cartridges are either $5.99 or $9.99 depending on the scent. There are 30 scents, including categories like "private parts" that offers whiffs of lips, clitoris, vagina, nipple, or manhood, and "aphrodisiac" which consists of chocolate, honey, coffee, cake, and hot peppers.
The OhRama's available for pre-order on CamSoda's page for the product. It'll be fully available depending on how pre-sales go, but the company's hoping to get them into customers' hands by March.
Research has shown that stimulating a man's sense of smell can also jump start their nether regions. A 2014 experiment from the Smell and Taste Treatment Research Foundation in Chicago had a group of 30 men smell a certain scent while recording penile blood flow. All of the odors produced an increase in blood, but all of them were food like pumpkin pie or licorice instead of what normally comes to mind when it comes to sexy smells.
If anything, the fumes from used underwear appears to mainly be a kink; and Orange Is the New Black showed that there's a lot of people out there willing to pay good money just for some used woman's panties to sniff.
"After working with VR last year we knew we could push the boundaries of this revolutionary technology. Smell and touch were, logically, the next senses that we thought could improve the experience and further immerse users," Lundeen says. "OhRoma is our first attempt at bringing aromas into a live web experience and we're excited for our fans to give it a whiff."
It makes sense that CamSoda would want to capitalize on this smelly market. It already offers users the ability to explore the CamSoda house full of scantily clad (or naked) models through virtual reality. By incorporating smell into a virtual experience, it's one step closer to making it more of a reality.
CamSoda's the same company behind a bundle of other new technologies for people to experiment getting off. Last year, CamSoda unveiled the "iTunes of blowjobs," which used teledildonics to simulate getting head from one of their models. The company also developed technology to beam holographic shows from cam girls from people's smartphones and tablets.
It's yet to be proved how real or pleasurable the OhRoma actually is. There's the possibility that the smells the company has engineered just don't do the real things justice or that they just turn out to be awful. But trials like this are vital to the continual intersection of new technologies and human sexuality — and in the end, everyone's just trying to get off.