The NSFW Hologram Is a Paperweight and a Strip Club
Innovation takes many forms. This form dances for a living.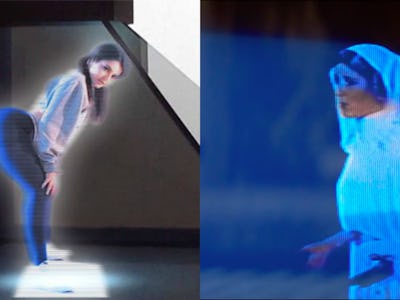 Twitter
Cam girls earned over a billion dollars globally in 2015, prompting the media to treat their rise as pornography's version of the reformation. Live, tailored content, after all, is an exciting proposition, especially when enabled by new technologies designed to create new experiences. Still, most camming has remained a relatively lo-fi endeavor. Performers get on and [get off]((https://www.inverse.com/topic/sex) in bedrooms and performance spaces while viewers watch on their digital devices. Now, CamSoda, an adult entertainment company that has been pouring money into new pornography delivery systems, is hoping to create a new kind of immersive experience. The twist is that the performer is the one being physically immersed in the viewers reality.
CamSoda's Holo-Cam technology allows for low-cost mass consumption of holographic performances. The NSFW paperweight has finally arrived and it's being marketed alongside Rogue One.
Anyone looking to beam a camgirl into their home, will need a smartphone or tablet and a 3D holographic display pyramid. That latter piece of equipment might sound fancy, but it isn't. Pyramids are general smallish pieces of acrylic or plastic that retail, in many cases, for less than $5. Basically, these stubby obelisks allow CamSoda to fold a multipart video stream beamed out of a "capture room." This visual origami produces an image of a gyrating woman on top of a phone or tablet. Does the result have the immersive quality of virtual reality porn or the off-putting details of HD offerings? No, but it's a compelling visual in its own right — perhaps because there is an element of cage dancing unintentionally built into the product.
If the medium is the message than the message is a bit kinky.
Trying — and succeeding given this article — to get some downstream Rogue One press, CamSoda is interested in Star Wars as a short term marketing gimmick and holograms as a long-term play. So, for now, Slave Leia will be involved because that is how this galaxy, and other galaxies, work.
"The Holo-Cam provides users with a hologram of a webcam model similar to that of Princess Leia when Luke Skywalker interacted with her. We figured fans wanted to see a real life version of this, and anticipate those with a science fiction kink to tune in and give it a try," CamSoda President Daron Lundeen told Inverse. "I'm sure the first requests we receive will be for Star Wars Cosplay, which our models will be more than happy to accommodate."
Virtual reality porn and sex robots are arguably the most talked about advancements when it comes to emerging technologies transforming sexual experience. But CamSoda is all about embracing other types of innovation, all in the name of getting people off. These are also the people behind the "iTunes of Blowjobs," an initiative launched earlier this year where people could experience digital head through an online platform and teledildonics, with a sleeve that wraps around a dude's… Millennium Falcon.
"This technology should be considered in addition to other technologies like VR and teledildonics. It's a matter of personal preference whether people prefer to interact with a 3D hologram in a real world environment or a real girl in a VR environment," Lundeen says. "I just want to reiterate our commitment to pushing the limits of what can be done with technology to explore sex in the healthiest way."
Holo-Cam hasn't been officially released yet, but CamSoda will soon be broadcasting these sorts of shows on a regular basis. And the company plans to debut a big version of the Holo-Cam at the 2017 Adult Entertainment Expo in Las Vegas. As for where this technology is headed, well, it's hard to say. But more advanced tech is coming. CamSoda will spend money to make it so.
"Within the next five years, I anticipate that there will be full size augmented reality with the projection onto your eyeball as seen with Magic Leap," Lundeen says.
So think of the hologram and the capture room and the mobile phone-sized twerking as a stopgap. There is more to come.