How Will Car Companies Make Driverless Cars Fun?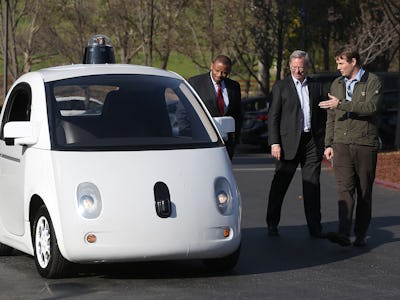 Getty Images / Justin Sullivan
Autonomous cars are going to revolutionize cities. If we're not careful, though, it could be a drab and lifeless future. Where are the popcorn machines? The Pimp My Ride-style big ideas? Here are 15 ways the car makers could inject some fun into proceedings.
Gym - Feel the burn as you drive to work. Italdesign Giugiaro and Audi presented the concept at the Geneva International Motor Show in 2015, with aluminum handles in the rear seats for upper body routines complementing the flat boards on the floor designed for lower limb exercises.
Tables - Okay, it's not very interesting, but it is fun. Concept car designers have immediately jumped to the idea of swiveling the front seats 180-degrees in self-driving mode, with a pop-out table allowing for card games and other group activities.
Retro stylings - There's plenty of scope to update some of history's best designs for the 21st-century. Volkswagen has already revealed a self-driving hippie van, but what about the Mini Cooper or the Volkswagen Beetle? The possibilities are endless.
Jacuzzi - Fancy a wind-down in a mobile jacuzzi? With the autonomous future, it's possible. "If there is a market for cars with Jacuzzis, someone is going to build them," Frank M. Rinderknecht, CEO of car maker Rinspeed, said in a report published last week.
Bed - What could be more fun than taking a nap? British artist Dominic Wilcox created the car-bed for an art project called The Mini Cathedral back in 2014, with a stained glass exterior creating a cool glowing effect that protects the user's privacy.
Cocktail bar - Another idea Wilcox conceived of was the portable cocktail bar. Have a drink on the way to the club, only to have the same car drive you home again.
Sunbed - Wilcox's third idea might be taking things a bit far, but it would be a cool way of driving to the beach. A sunbed on wheels would be a great way to get a tan on the go, and would take the top-down design of current cars to a whole new level.
Movie theater - A 2016 patent from Ford describes a portable movie theater, with screens and projectors that descend from the ceiling as the driverless car mode engages. Pass the popcorn!
"Massage parlor" - Jeffrey Tumlin, director of strategy at Nelson/Nygaard, told Inverse in November that self-driving brothels could roam the cities of the future. In a slightly more legal scenario, self-driving massage parlors could pick you up and take you to your destination fully relaxed.
Video games - With Ford's patent, every passenger could grab a controller and play each other head-to-head. Experience the ultimate game of Call of Duty at 100 mph in your own personal game machine.
High-quality audio systems - Ready for the most advanced in audio experiences? EY predicts that, because it's a concentrated experience, self-driving cars could add an extra 22 billion daily hours of media consumption. Rock out without worrying about staying on the road.
Virtual reality - Without any need to worry about keeping your eyes on the road, each seat could have its own personal VR kit. When autonomy hits, these VR kits will be even more immersive than today.
Projectors - BMW recently demonstrated a self-driving car entertainment system that used touchscreen projectors to track a user's hand without actually having to make contact with the screen.
Cushions - Okay, pillows don't sound particularly radical, but interior designers could design cars that are covered in thick rugs, cushions, and maybe even a water bed. It would be the ultimate chillout area, and you wouldn't even need to drive the thing.
Kitchen - Fancy hosting a dinner party on the highway? The caravan-meets-driverless car could be the perfect place to kill some time on the long journey ahead. Just don't hold any fondue parties: any sudden braking is bound to go down badly.
Essentially, self-driving cars will make the personal vehicle a very different experience than it is now. Cars will transform from a utility to another living space. Chrysler is already working on a self-driving minivan that explores this concept of a "third space" between work and home, and Hyundai's latest bit of concept vaporware imagines the vehicle as an integral part of your home — until it detaches and drives you wherever you want to go. We're not sure which of these visions will come true, but the future looks pretty fun.