Theranos Shut Down Its Blood Testing Lab After Failed Inspection
The next chapter in a bizarre tale.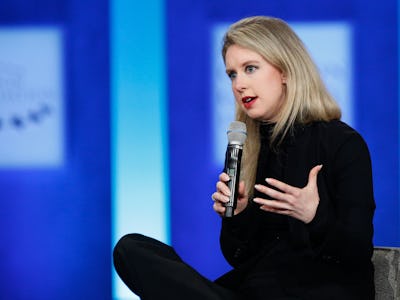 Getty Images / JP Yim
Theranos, the bizarre $9 billion startup that claimed it could detect hundreds of conditions with just one prick of blood, reportedly closed its last testing lab without explaining that it failed an inspection. The first lab, which closed in California last year, failed a surprise inspection by the Centers for Medicare and Medicaid Services, which warned that the lab was putting patients' health in "immediate jeopardy." It's a fate that struck again at its other lab in Scottsdale, Arizona, but the CMS has yet to make its second report public.
On Tuesday, the Wall Street Journal reported that the Arizona inspection occurred in September, just before the company announced it would leave the blood testing business altogether. On October 5 the company announced it would instead sell lab equipment, but it didn't tell the public that the second lab failed inspection.
"After months of careful consideration, and prior to CMS's unannounced inspection in Arizona, Theranos decided to close its laboratories," Theranos general counsel David Taylor said in a statement. "Theranos has been responding to the deficiencies raised by CMS and will continue the process of revising or voiding test results as appropriate until we are satisfied that we have taken all necessary remedial action."
Theranos held great promise, boasting of its ability to create a comprehensive blood testing system, but it was met with skepticism from experts and regulators. In March, CMS first proposed banning founder Elizabeth Holmes from operating a lab for at least two years after the company refused to fix issues at its California lab. The ban was enacted in July, but is currently under appeal and thus has yet to take effect.
Holmes, a 32-year-old billionaire, founded the company in 2003 at age 19. She has her name down on over a hundred patents, but Theranos has found itself drenched in controversy. The miniLab, the company's new focus, is a self-contained laboratory announced back in August, but the FDA has raised questions about its development.
The Arizona closure is the next chapter in a strange and bizarre tale. Why didn't Theranos tell anyone that it failed inspection? As the company prepares for a $140 million lawsuit filed by Walgreens, it might not be the end of the company's woes.
Correction, 1/18: An earlier version of this story said that Theranos secretly closed its lab. This has now been corrected.