Here's How to Stream Trump's Presidential Inauguration
Cheetos are recommended as a snack while you watch.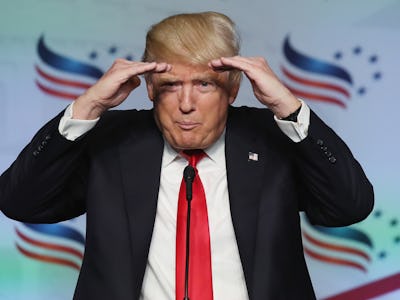 Getty Images / Mark Wilson
Donald Trump will be inaugurated as the 45th president of the United States at noon on Friday, January 20. The world will be watching — and here's how you can follow along.
The usual fanfare will begin with the swearing-in ceremony at 11:30 a.m. Eastern Time when Trump will take the oath of office and make his first official speech to the American people as president. The inaugural parade will begin at 3 p.m. Eastern, and then, at night, President Trump, First Lady Melania Trump, Vice President Mike Pence, and his wife, Karen, will attend three inaugural balls. It's a full day filled with stress and tears (of both joy and fear).
CNN, Fox, CBS, ABC, and NBC will all be readily available with inauguration coverage for those in the world with a television. If you're only working with a computer and a somewhat reliable internet connection, fear not: your options are actually more diverse than the average cable-watcher's.
Below is a guide to live-streaming the Presidential Inauguration on January 20. In the immortal words of President Barack Obama: "Good luck!"
The official White House website is going to be all over the inauguration for its new president-in-chief.
Twitter is teaming up with PBS NewsHour to live-stream the inauguration with an accompanying TweetDeck so you can peruse all the lovely things people have to say about the event.
YouTube
As always, YouTube has a plethora of streaming options for such an historic event. NBC, CBS, Telemundo, C-SPAN, Bloomberg Politics, USA Today with its 360-degree, virtual-reality coverage, and the Washington Post will all have their own live streams on YouTube for you to choose from on Inauguration Day.
Various news sources
NBC, CBS, Fox, CNN, ABC, The New York Times, the Washington Post, Democracy Now!, Politico, and a handful of other news sources will have live coverage and streaming of the event on their websites.