'A Series of Unfortunate Events' Season 2: 4 Actors Who Should Be in It
Dream-casting Season 2 of the absurd new Netflix show.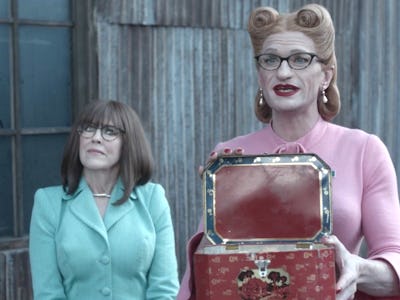 The eight-episode first season of Netflix's A Series of Unfortunate Events had several high-profile casting surprises. Neil Patrick Harris's Count Olaf aside, Joan Cusack featured in "The Bad Beginning" parts 1 and 2 as Justice Strauss, while Will Arnett and Cobie Smulders had surprise and spoiler-filled roles. The Daily Show's Aasif Mandvi also featured in "The Reptile Room" as Uncle Monty. As Season 2 is already in the works and will feature a host of zany new characters, there's ample opportunity for more high-profile side roles. Here is the most ideal dream-casting for key Season 2 characters.
1. Hank Azaria
Hank Azaria is best-known for his voice acting — he's responsible for many Simpsons characters including Moe, Apu, and Comic Book Guy. But in a non-cartoon form, he's also a killer comedic actor with a keen handle on the absurd. He managed to be a scene-stealer in a movie featuring Robin Williams and Nathan Lane (The Birdcage). The first two episodes of A Series of Unfortunate Events Season 2 will feature Vice Principle Nero, a character who wears multiple ponytails, employs a baby as his secretary, mimics his students in a high-pitched voice, and is a terrible violin player who fancies himself a genius. Azaria's sensibilities would make him perfect for the role.
2. Millie Bobby Brown
Carmelita Spats is an obnoxious girl who is first introduced in "The Austere Academy" — which will make up the first two episodes of A Series of Unfortunate Events Season 2. Essentially the Draco Malfoy of the series, she's a bully who mocks the orphans for their parentless state and is constantly described as "rude, violent, and filthy." What would be more fun than to see Millie Bobby Brown in another Netflix show where she's the polar opposite of Eleven?
3. Taraji P. Henson
Esme Squalor is the sixth most important financial advisor in the city, a fact she makes sure you know as soon as you meet her. She's obsessed with keeping up with trends and later becomes Count Olaf's equally devious girlfriend. She will appear in the middle of A Series of Unfortunate Events Season 2 and pop up in a recurring role throughout the series. Empire's Taraji P. Henson would bring the perfect amount of gravitas and dramatically arched eyebrows to the role. As an alternate contender, if Henson is too busy filming Empire, Tilda Swinton would also be perfect, as Esme is a mixture of her characters from Trainwreck and Snowpiercer.
4. Horacio Sanz
Hector is a character who will appear towards the end of A Series of Unfortunate Events Season 2, as a kindhearted, somewhat timid inventor who values reading and builds a self-sustaining hot air balloon. Although it's not an overtly comedic role, neither is Uncle Monty, but comedic actor Aasif Mandvi infused him with warm humor. Horacio Sanz would be a similar casting choice. He's one of the most underrated SNL cast members of the Will Ferrel era and he's since had guest stints on shows like Parks and Recreation and Son of Zorn.
A Series of Unfortunate Events will appear at an as-of-yet unspecified date, but it's currently in the works.