Patrick Warburton Tried Not to Ruin 'Unfortunate Events' 
The actor speaks about his version of Lemony Snicket and teases 'A Series of Unfortunate Events' Season 2.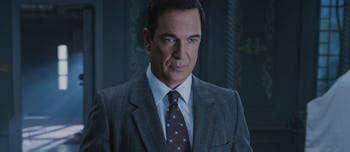 Netflix 
Lemony Snicket is a character, a fake author, and a storytelling device. He tells A Series of Unfortunate Events through his narration, and yet he also exists on its fringes, tied to its history and lore. In Daniel Handler's book series, Lemony Snicket is credited as the author. He dedicates every volume to a mysterious, long-lost deceased love named Beatrice and makes frequent asides to the reader. In the new Netflix series, Lemony Snicket is played by Patrick Warburton as a solemn, newscaster-voiced character who exists at the crossroads between Rod Serling and Wes Anderson.
Inverse recently spoke to Warburton about being an omniscient narrator, his version of Lemony Snicket, what he's looking forward to in A Series of Unfortunate Events Season 2, and more.
Spoilers ahead for the entirety of A Series of Unfortunate Events.
Since Lemony Snicket is an elusive character, with much about his background shielded from the audience, how did you prepare? Did you have much guidance from Daniel Handler?
No, not so much. With Daniel it's mostly just fun and hanging out, we all went out to some dinners early on in production in Vancouver. Most of what I get is through Barry [Sonnenfeld]. Barry and Daniel had their discussions about who Lemony is and what hey wanted tonally, so I get everything from Barry.
Nothing from the books, then?
I've read Lemony Snicket's unauthorized autobiography and the fist couple since we've been working on them. I haven't quite finished the whole series.
The end of Season 1 reveals a photo of Lemony Snicket and Count Olaf together as young men. What's your take on their relationship?
Lemony hates Olaf, he's a terrible actor and a horrible person. I think back in the day, they had a rivalry that was somewhat ridiculous and silly about their acting. Lemony is a caring thoughtful loving overly emotional gentleman — probably very much like Daniel — and Olaf is the bully.
As Lemony, you navigate a deft balance between a morose tone and one that's more tongue and cheek. Was that hard to nail?
As actors, we all want to engage. The role of narrator is isolating to a degree, even though Lemony is on-camera and I walk through the scenes. There's no interaction besides me breaking the fourth wall and talking to the audience, so it's a different process. It's in writing, mostly. It's a smart series, it doesn't patronize or talk down to kids. It does the exact opposite, in showing that young people are much more aware and cognizant of the world around them as adults give them credit for. All the adults in the series — including the well-meaning ones — create nothing but problems because they just don't get it. It's important not to be spoon-feeding anything in this series, including the narrative. The writing is funny and smart and doesn't need to be a wink or a nod, or "isn't this cute, what I just said?" It needs to be pretty straightforward. My task is simply to not ruin things.
What was the most challenging aspect for you?
It would always be the days that are the most dialogue laden, only because of my situation there. With children at work, they're on a real time frame. When they could get me in usually towards the end of the day, everybody's ready to split. They'd want to try to shoot my stuff as quickly as they could, so I couldn't indulge in many takes. I had to make sure I knew everything and was pretty secure and prepared in what I had to do.
Since Jude Law played Snicket in the 2004 movie, did you draw from that performance at all, or focus on creating something new?
This was pretty new from the ground up; I was intrigued by the fact that both Barry and Daniel were fired off the film. That to me seemed absurd. Their interpretation of this was going to be my incarnation.
What about as far as television narrators go — did you draw inspiration from any previous narrators for your performance?
Even though I did watch The Twilight Zone back in the day, I wouldn't say Rod Serling was one. I always found him to be a little bit creepy, actually. Lemony, unlike Rod, is a narrator with empathy. We can sense when Lemony is brokenhearted, we can sense when he's disillusioned or commenting socially. There are times he's a bit more morose or overwhelmed by everything — so the short answer is no.
Was there a particular scene you enjoyed filming the most?
I liked when I got to be the weatherman; that was ridiculous. It was a little bit of a trick trying to get those magnets on the board and in the places they're supposed to go. Not only did I have to make them stick, I had to throw them and hope they would land in the same place so it would match continuity-wise. Barry had fun taking the magnets and showing me how to do it. "It's easy, Patrick, what are you, an idiot?" When Barry calls you an idiot, it's a term of endearment.
What are you most anticipating for Season 2?
I know that Daniel is hard at work writing right now, as is the whole team, so I would expect more great stuff. It looks like there might be some really fun opportunities to do something different and actually interact.
This interview has been edited for brevity and clarity.