'Santa Clarita Diet' Is Disturbingly Cheery About Cannibalism
The Hammonds take "'til death do us part" to a whole new level.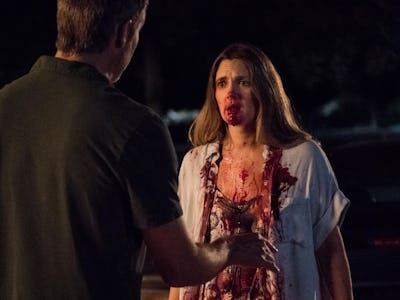 TV Guide
The family that murders together stays together. Sheila and Joel Hammond — portrayed by Drew Barrymore and Timothy Olyphant, respectively — are married realtors with a kid and what looks to be a booming business. Then Sheila dies. But, it seems there are few problems in life that can't be solved with an upbeat attitude and a cooler full of bloody body parts.
Netflix's new trailer for Santa Clarita Diet reveals that the Hammonds are probably the most healthily functioning family ever with a dead parent. Or, in Sheila's case, undead. A family friend, Eric (Skyler Gisondo), declares Sheila to be a zombie even though he thinks it's an "inherently negative" word, so they decide not to use it. The official synopsis kind of says it all:
Joel and Sheila Hammond are realtors leading vaguely discontented lives in the L.A. suburb of Santa Clarita, until Sheila goes through a dramatic change sending both their lives down a road of death and destruction but in a good way.
While their daughter, Abby (Liv Hewson), is freaking out about her mother being dead, Joel is searching for the best way to keep his newly undead wife happy and healthy. What the Hammonds land on is murder — but only the people who "deserve" it — and subsequent cannibalism.
"I guess the prototype would be a young, single Hitler," Joel says, to which Sheila replies: "God, we'd be heroes!"
While Santa Clarita Diet doesn't seem to be shying away from the usual gore factor of other zombie-centric movies and TV shows, it's probably the cheeriest project of its kind to join the ranks. Its single-camera approach will undoubtedly bring a looseness to the show, as will Olyphant and Barrymore's blindingly upbeat attitudes.
The first season of Santa Clarita Diet will be available on Netflix February 3.