Rebranded, a Crime-Streaming App Returns to the Public
The most controversial part of the app remains though.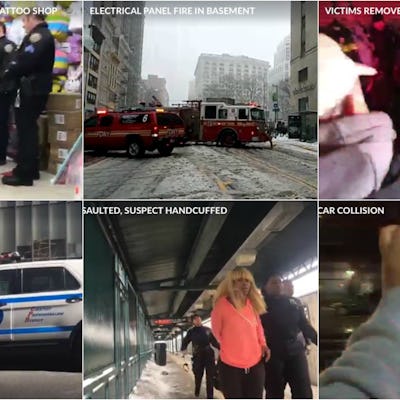 Citizen
Every morning, I wake up to a phone full of notifications: Emails, Instagram likes, late-night Snapchats, tweets from the President, and occasionally things like "MAN WITH KNIFE, POSSIBLE GUNSHOT VICTIM, or ROBBERY IN PROGRESS."
The latter alerts, which tell me about everything from a homicide 40 blocks away to a barking dog next door, but trend heavily toward violent crimes, came from Vigilante, an unlisted crime-fighting app that launched in late October. Vigilante stirred up a fierce debate over the ethics of vigilantism and the safety concerns inherent in its design, which encouraged users to show up at the scene of the crimes it reported and live-stream them to other users of the app. After just over 24 hours in the sun, Apple pulled Vigilante from the app store and it quickly faded from the news — while remaining active for users that already downloaded it.
Now, Vigilante is back, with a new name, new branding, and a very obvious change of heart. But the app's core feature — the ability to live-stream active crime scenes — is still very much the same.
Sp0n Inc., the app's parent company, recently re-launched the app as Citizen, re-introducing its service with at least a nominal commitment to helping people avoid crimes, rather than show up to them with a selfie stick and a hero complex (although its function still definitely allows that).
"The name Vigilante distracted from our mission," Sp0n CEO Andrew Frame told the Washington Post. "Citizen more accurately communicates our mission. We have reinforced our focus on safety. We built this app to create safety, and any reckless or dangerous behavior will not be tolerated. Our in-app messages now more strongly communicate this, and the terms of service have also been updated to reflect this policy."
According to the company's launch release, Citizen is this:
A "real-time crime notification platform" that gives users access to 911 emergency dispatch notifications as they happen, which "enables individuals to act responsibly by empowering them with information on crimes in progress, allowing them opportunity to avoid the area and protect their community by alerting friends and family to a dangerous situation."
But the live-streaming function does remain, and outside of a host new disclaimers and messages, as well as additions to the app's lengthy terms of service, it appears to be effectively unchanged. Citizen's rebranding appears to be a larger-scale version of the warning popups that Niantic frantically added to Pokémon GO after players began hurting themselves while using the app. It's a change in framing, but not in function.
You can see the difference in the app's two promo videos. The original Vigilante intro video is a tense thriller featuring a smartphone-wielding hero on a neon-accented fixed gear bicycle saving a helpless woman from a hooded assailant by live-streaming the assault. Watch:
Vigilante's seeming endorsement of inserting yourself into an active crime scene has completely vanished — even though the app's function is largely unchanged.
The app's new promo video is very different: instead of a hero on a fixie, the "Citizen" is now a young mother with child, who uses the app to avoid a dangerous situation in the park on a beautiful day in the city. There's no confrontation, no promotion of live-streaming, and no active risk to the user portrayed. Here's the new spin:
Citizen is reportedly in direct contact with the NYPD, city officials, and community leaders. The NYPD has not commented on the app. Citizen's press team emailed Inverse the release statement but wouldn't comment further.