Where Xavier's Son, Legion, Belongs in the 'X-Men' Timeline
Legion will get weird inside the X-Men universe. But is he before 'Days of Future Past'?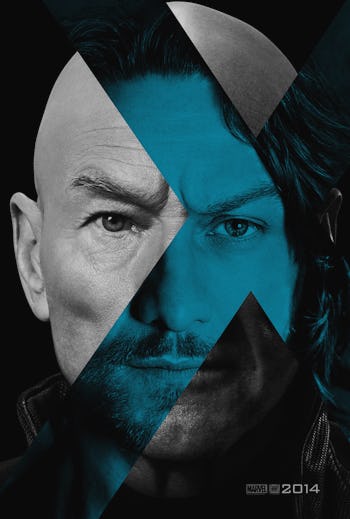 20th Century Fox
The new mindbending FX series Legion — centered on the powerful and mentally ill son of Professor X — takes place within the continuity of Marvel and Fox's X-Men franchise. But when? And where? Showrunner Noah Hawley (Fargo) has a definitive answer, but he also warns that it might not really matter at all.
At this season's Television Critics Association press tour, Hawley spoke about Legion and its place within the X-Men films, which encompasses everything from 2000's X-Men to last year's Deadpool and X-Men: Apocalypse to Logan coming this March. When asked this now mandatory question in the age of interconnected cinematic universes, Hawley responded with two bullet points: Yes, it's connected. No, it won't really care to tell how.
"There is a periodness to the movies," Hawley said about the recent X-Men films, which have presented themselves like montages of the '70s and '80s. "[B]y hiding the period [in Legion], the question is a little more open-ended."
Hawley said his team have "obviously" had discussions involving the movies. The showrunner says it's not the presence of certain characters that will define the timeline Legion takes place, but how its world behaves. "In the second-to-last movie," says Hawley, referring to X-Men: Days of Future Past from 2014, "mutants became public knowledge, and our idea is that they're not public knowledge."
"So it was a lot about where are we and how do we play with those rules and everything," he added. "I think that phrase is part of the identity of what this franchise is."
This doesn't mean Legion takes place between X-Men: First Class, set in the '60s, and X-Men: Days of Future Past, which included time-travel shenanigans that sent Wolverine (Hugh Jackman) back to the '70s. "The other thing that X-Men has is a lot of alternate universes," Hawley said. This is not to say Legion is in an alternate reality, but that the "rules are flexible enough" that Hawley feels free to do what his team desires with the show.
Hawley brought up his other FX series Fargo which until its fourth episode bore no connection to the 1996 Joel and Ethan Coen film of the same name. When the TV series introduced a plot device — the money — from the film, the notion of cinematic universes seemed properly like the novelty they should be than the crux of the whole thing. "Some of that is just to allow us to prove ourselves and stand on our own two feet," Hawley said. "By that point, we had earned our right to be judged on our own merits."
The convoluted X-Men films makes placing anything in that universe more complicated than it should be. The continuity got muddy in the poorly received X-Men Origins: Wolverine from 2009, but the mess was seemingly cleaned up in the reset ending of X-Men: Days of Future Past in which Wolverine saved the future from the Sentinels.
But things got fucked again anyway when X-Men: Apocalypse, set in the '80s, introduced a number of errors that no foreseeable X-Men movie seems eager to sort out. This March's Logan, which isn't as dystopian as the base Old Man Logan comic and just looks dreary, is also shaping up to add developments to the timeline that won't get a whole lot of answers.
But Hawley offered one final nugget that might reward the audience no matter what: "Just watch it, and experience it, and then we'll talk."