Deadpool Posts Awesome, Brag-Fueled Oscars Video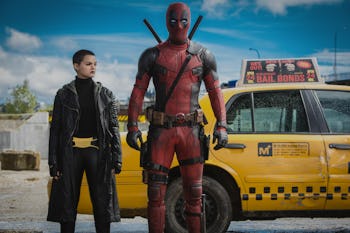 Joe Lederer Photography
As an actual Oscar nomination starts to look all the more likely for last year's mega successful Deadpool, Ryan Reynolds has only added to the hysteria. In a tweet posted late Thursday night, a brief 35-second video mocking self-congratulatory "For Your Consideration" spots that pop up every January, Deadpool brags about all of its achievements including "600 lbs. of chimichangas," "12 humiliating minutes on a casting couch," and "42 rejection letters from Fox."
The video is another highlight reel of the movie condensed to half of a minute. There's no new footage, and the deep baritone narrator might be the same guy who used to be in every movie trailer in existence. (And hey, remember when movie trailers had VO?) But it does lampoon the masturbatory celebration traditional Oscar films give themselves, and there's really no other character best suited for that than Marvel's Deadpool.
Just how probable is Deadpool and an Oscar nomination? Still maybe zilch. But after raking in more than $700 million worldwide, Deadpool has landed in the Oscar race after several prestigious nominations from the Golden Globes, the Writers Guild, and the Directors Guild in categories previously denied to movies of its type. But Deadpool, which spoofed superhero films while also being one, pulled off some impressive storytelling gymnastics that so many other films like it fail at, at a fraction of the cost. Deadpool, unlike other major superhero movies, was made for a very modest budget within the $50 million range necessitating invention on the part of the filmmakers.
Check out the tweet below.