GRRM Says 'Winds of Winter' Will Be Out This Year (He Thinks)
But do you believe him this time?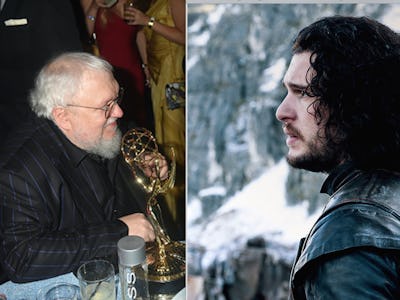 Getty Images / Frederick M. Brown
George R.R. Martin, the notoriously snail-paced author of A Song of Ice and Fire, thinks he will finally release The Winds of Winter this year. Maybe. Probably. If the Lord of Light makes it so.
In a recent comment on a blog post about football on January 7, he admitted he still isn't finished with the novel. That seemed to indicate it would not be out for the foreseeable future, as 700-plus page books need just a bit of time with an editor. But in a subsequent comment on January 10 — again commenting on a post about sports, just like the first post, he wrote:
Not done yet, but I've made progress. But not as much as I hoped a year ago, when I thought to be done by now. I think it will be out this year. (But hey, I thought the same thing last year).
This isn't exactly an assertive statement worthy of Tywin Lannister. It's more along the lines of world-weary, post-resurrection Jon Snow. He's rising to the occasion because he must.
So whether you are inclined to believe a George R.R. Martin promise of "soon," or whether you think his word on deadlines is about as trustworthy as Petyr Baelish, The Winds of Winter will be out this year. Maybe.