George R.R. Martin Still Isn't Done With 'Winds of Winter'
The 'Game of Thrones' author has confirmed what many suspected: "The Winds of Winter' isn't coming soon.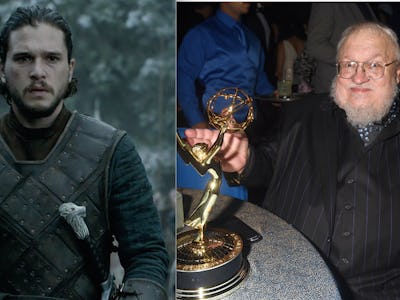 After six long seasons of ominous declarations, winter has finally come to HBO's Game of Thrones — but it will be longer still before The Winds of Winter comes to bookstores. A Song of Ice and Fire author George R.R. Martin recently responded to a fan question on one of his blog posts about an unrelated subject. In doing so, Martin confirmed what many were already suspicious of: he isn't even done writing yet.
At the bottom of Martin's post about football, a fan wrote,
I know you're most likely sick of getting questions about ASOIAF if they relate to production/release. This will be my first and only question. Would you be open to a kind of "tell-all"? For example you could state how long you would like The Winds of Winter (or maybe the series) to be, how much you currently have (though obviously not what POVs or the content of the chapters), and a general outlook, but no timeline. You won't have to put your name on any sort of "release date expectancy." This would also trigger a moratorium from your fans on asking about it, as you could just simply state "read this link" or just ignore them.
George R.R. Martin responded:
If you think a tell all or update on WINDS OF WINTER would stop fans from asking about it … well, I love your optimism, but my own decades of experience suggest otherwise. There are only two things that will stop people asking me about WOW: (1) my finishing and delivering the book, or (2) a giant asteroid hitting the Earth and destroying human civilization. As I have no control over (2), I am working on (1).
"Finishing" and "working on it" are not exactly signs that it's nearly complete and he's feeling inspired — nor is his wishful thinking about asteroids. Of course, this is not surprising, as Martin's leisurely pace has become notorious. But many fans had hoped for a surprising last-minute rescue when the situation looked bleak — something like the Vale would do.
While the final novel, A Dream of Spring will certainly come out long after Game of Thrones is over, the biggest question remains whether Winds of Winter will beat Season 8 to the close.