Even George R.R. Martin Thinks There's Been Too Much Death in 2016
The man behind 'Game of Thrones' reacts to Carrie Fisher's death in a blog post.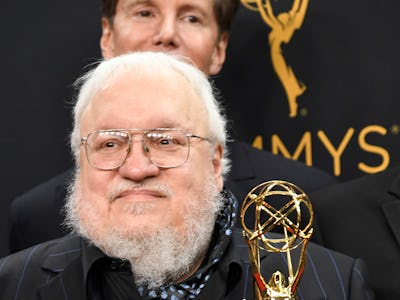 Getty Images / Frazer Harrison
Even before Carrie Fisher's tragic, untimely death, it sure seemed like 2016 was giving the bloodiest fantasy series a run for its money. Between Prince, David Bowie, Leonard Cohen, Alan Rickman, Gene Wilder, Harper Lee, Muhammad Ali, Elie Wiesel, and more, many people have uneasily joked that Game of Thrones author George R.R. Martin is behind 2016. But in a recent blog post, the king of character deaths himself has proclaimed he's had enough.
"Death, death, and more death… this year just keeps getting worse and worse," Martin wrote on his LiveJournal.
"She was way too young," Martin continued. "A bright, beautiful, talented actress, and a strong, witty, outspoken woman. Princess Leia will live as long as Star Wars does… probably forever…"
Martin also lamented the loss of author Richard Adams, who wrote the beloved classic Watership Down, which Martin called one of the "three great fantasy novels of the Twentieth Century."
This mourning is coming from a man whose own stories feature death, death, and more death, often at celebratory events like weddings. A man whose pen makes bad things happen to good people more often than not (Khal Drogo; Ned, Rob, Caitlyn, and Rickon Stark; Oberyn Martell; and even Jon Snow for a hot second). Martin is a man who continuously makes circumstances worse and worse for his characters, whether it's affliction from an incurable disease (Jorah), betrayal (Jon Snow), political upheaval (Tyrion), or death by magical mindfuckery (Hodor).
While it's true that Martin is not directly responsible for all of these events yet (Jon is still bleeding out in the snow in his pages), Game of Thrones is his universe. Martin swung the proverbial sword that beheaded a good and kind man and shocked the world.
And yet, 2016 in the real world has been too much for him. It's a dismal sign that winter is coming in the real world — but on the other hand, it could be a sign that Game of Thrones will not ultimately end with nothing but death, death, and more death.