What to Know Before Watching 'Colony' Season 2
The occupation keeps on occupyin' in USA's 'Colony.'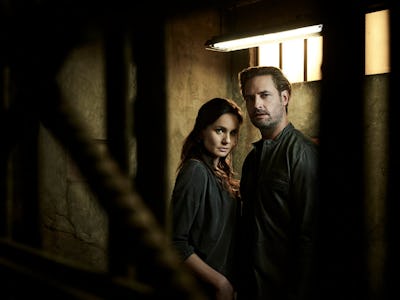 Justin Stephens/USA Network
The occupation continues. The second season of USA's sci-fi/war drama Colony returns on January 12, and its premiere episode "Eleven.Thirteen" will take place weeks after Will Bowman's (Josh Holloway) second journey into Santa Monica to find his son, now with full authorization. What plot threads will fans have to remember when Season 2 kicks off? Here's a handy guide to Colony.
Charlie is alive, but he's working for Solomon.
Charlie, Will's lost son whose disappearance made Will work for the totalitarian Transitional Authority in the first place, is confirmed alive in the Season 1 finale. But Charlie is working for Solomon, a new unknown figure ready to take the place of Season 1's elusive Geronimo (who turned out to be nothing more than a metaphor used by the Resistance). Solomon seems to look after children in Santa Monica, which is no more a paradise than the dystopian Los Angeles. But is Solomon that altruistic, or does he — or she? — have other goals?
After all that, Katie is alone.
Her marriage with Will is in shatters. Her children and her sister, Maddie (Amanda Righetti), are hiding in the Burgess home, safe within the Green Zone. After all the heartbreak and sacrifice working for the Resistance, Katie Bowman (Sarah Wayne Callies) is left behind with an empty house. Katie was warned by Broussard (Tory Kittles) earlier in the season: If she chooses this life, she risks being alone. Katie gambled and she lost.
Maddie better watch her back.
After blackmailing Charlotte (Kathryn Morris) to be with her husband Nolan (Adrian Pasdar), Maddie is living a comfy life in the Green Zone. But between betraying Charlotte, her ex-employer, and the children's creepy tutor Lindsey (Erin Way) living with them, the enemy is dangerously close to home, quite literally.
Bram is getting radical.
After a slow-burn freshman season, Bram (Alex Neustaedter) joined the Resistance with his teacher, Mr. Carson, who discovered that the fearsome, so-called Factory is all the way on the moon. In the season finale, Bram and Mr. Carson were captured under the wall in nearly the exact way Bram's father, Will, was captured in the show's pilot. Will Bram and Mr. Carson get sent to the Factory? If so, will the curtain on the Factory get pulled back? And will we know what the heck happened to his girlfriend, Pia?
Is McMahon head of Homeland Security? Does Snyder still have any power?
Expect changes in authority in Season 2. The cold Jennifer McMahon (Kathleen Rose Perkins) warmed up to Will, and in the finale she appeared to take the empty desk left by Phyllis in her death. Proxy Governor Snyder (Peter Jacobson), meanwhile, was unceremoniously removed from his influential position but will remain throughout Season 2. What use will Snyder — whose characterization as a stooge misled audiences into the more robust character he actually is — provide when the show returns?
Will we finally know who the Hosts are?
Raptors? Robots? Aliens? Alien robot raptors? The mysterious Hosts, nicknamed "Raps" for the raptor insignia on the Nazi-esque Transitional Authority flags, have yet to be fully unmasked and revealed. There are tiny hints to their history in the show's first season; humans and "Raps" made contact before their full-on invasion (called "The Arrival"), they perceive time differently than humans, and they require protective suits that look like a cyberpunk Judge Dredd. Will the "Raps" finally be unmasked in Colony? Perhaps on January 12, we'll know for certain.
Colony Season 2 premieres January 12 on USA.