Spotify Wants Barack Obama as Its President of Playlists
Do we trust him with such a grand responsibility?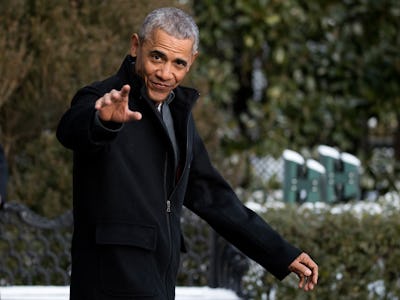 Getty Images / Pool
If Barack Obama's looking for a gig after leaving the White House, Spotify has the perfect job for him: President of Playlists. The tech company wants to fill the position with someone that will be in charge of overseeing music curation and playlists for all around the world. Could we trust Obama with such a grand responsibility?
On Monday, Spotify CEO and Founder Daniel Ek tweeted out a link to the listing directly at the lame duck president. He wrote, "Hey @BarackObama, I heard you were interested in a role at Spotify. Have you seen this one?" If the head of the company's reaching out, it looks like Obama's practically a shoe-in for the job. It also looks like the president fills most of the job qualifications, including "Have at least eight years experience running a highly-regarded nation" and "Someone with good team spirit, excellent work ethic, a friendly and warm attitude, and a Nobel Peace Prize." There probably aren't too many applicants who fit the bill. And if Donald Trump's going to be letting his kids pitch in on his new job, hopefully Obama asks Malia and Sasha for some tunes.
OK, so it definitely appears that Spotify's playing around a bit when it comes to its search for a President of Playlists. Earlier in January, when former Swedish Ambassador Mark Brzezinski visited the White House, Obama joked, "I'm still waiting for my job at Spotify."
The candidate qualifications are obviously specifically tailored to Obama — who else had Kendrick Lamar at their birthday party and would need a "I just found my birth certificate" playlist? Spotify's probably just creating some good will with Obama as he prepares to depart from office.
This isn't the first time that Obama's had some fun with the music streaming service. Back in summer 2015, the two-time Grammy winner shared his vacation playlists, which included artists Otis Redding, John Coltrane, Miles Davis, and The Lumineers.
Even though it's all a joke, Obama has Twitter's vote as Spotify's President of Playlists.