'Guardians 2' Villain Ayesha Makes First Appearance in Toys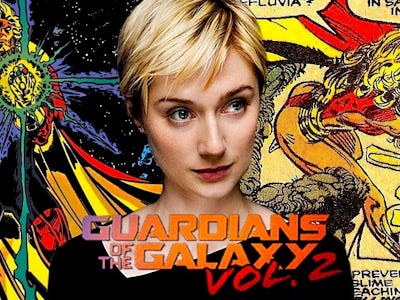 Flickr / Gage Skidmore
Marvel's Guardians of the Galaxy vol. 2 is one of the most anticipated superhero films of 2017, but despite two trailers, there are still a lot of details kept hidden from fans, including what to expect from Elizabeth Debicki's role as Ayesha. Now that some promotional toy images have given us our first peek at the character's design, there's still a lot of mystery surrounding her.
Debicki's Ayesha is reportedly the primary villain for the Guardians sequel, who joins other new cast members like Kurt Russell's Ego the Living Planet, and Pom Klementieff's Mantis. Despite Ayesha's importance in the sequel film, not much of her has been seen in promotional materials until now.
In a recent tweet to Guardians 2 director James Gunn, a fan asked who is the mysterious blonde character found in a promotional ad for the "Pint Size Heroes" collectible toy series, only to be told that it is, in fact, Ayesha.
Ayesha is described by Gunn as the "golden High Priestess of a genetically-perfect people called the Sovereign. She's not a woman to be screwed with[.]" This description is a vastly different from her comic book namesake, who is more of an artificially created super-being. Gunn's description hints that the character is probably very different from her comic book counterpart, maybe even going only as far as sharing a name.
While Debicki was cast as the film's villain from the onset, there has been relatively very little seen of her character so far. This could be because any scenes of the character could be a potential spoiler for the full film. Until then we can all speculate on her role based on her "Pint Size Heroes" figure.