John Boyega Is Ready to Drift Into Kaiju Battle for 'Pacific Rim 2'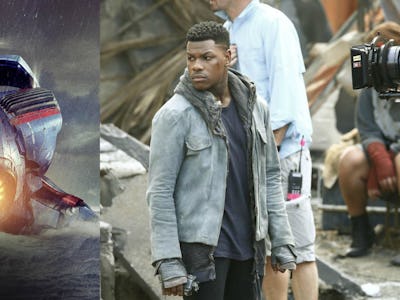 Warner Bros./GameSpot
Pentecost is ready for his neural handshake. Will he be able to handle the neural load, or will he fall like his father, Stacker Pentecost? John Boyega — who will be playing the younger "Pentecost" in the upcoming Pacific Rim sequel — was possibly spotted on set in Sydney, Australia, in full Jaeger gear, strutting down the street.
This potential first look from Instagram at one of the stars of Pacific Rim 2 — also known right now as Pacific Rim: Maelstrom and Pacific Rim: Uprising — dressed in Jaeger piloting gear from the neck down raises more questions than answers. While Boyega (Finn in Star Wars: The Force Awakens) finally confirmed that he will be playing Stacker Pentecost's (Idris Elba) son in the sequel, everything else about his character, Pentecost, is a mystery.
Little is currently known about the full plot of the sequel to Guillermo del Toro's 2013 science fiction kaiju extravaganza, Pacific Rim. Supposedly, the plot will revolve around the fallout of Newt (Charlie Day) and Hermann's (Burn Gorman) ill-advised attempt to Drift with a Kaiju brain in the first film. It's been theorized that Newt might turn bad because of his traumatic experience and new-found Kaiju knowledge, especially since it was made clear that the Kaiju in Pacific Rim share a "hive mind."
But the Instagram photo, which shows an unconfirmed person who shares a remarkable resemblance to Boyega in a Drift suit, gives nothing away.
Also new is an Instagram photo by cinematographer Dan Mindel, which confirms the return of Day as Newt and Rinko Kikuchi as the fan-favorite Mako Mori. The photo also revealed Scott Eastwood's character to be named Lambert, and that Karl Urban is somehow involved in the mix.
The world will have to wait for more details as it draws closer to Pacific Rim 2's expected release date, February 23, 2018.