Here's Why Didn't NBC Stream the 2017 Golden Globes
Many were left frustrated and unable to watch the awards show.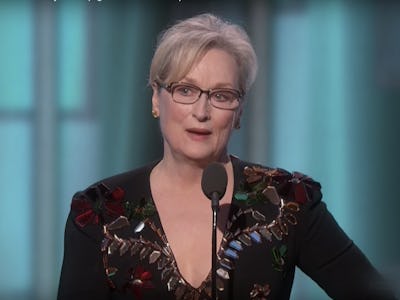 NBC
On Sunday night, the finest of Hollywood assembled at the Beverly Hilton for the 74th Golden Globe Awards, broadcast live on NBC to millions of cable subscribers and streamed live online to … no one. NBC didn't stream the Golden Globes in any format online, telling frustrated viewers without cable TV that their only option was to follow the updates on Facebook. Sure, it was possible to follow the action on various Twitter feeds and fuzzy streams on sketchy websites, but for the most part, there was no good way to stream NBC to watch the awards show — for the most part, because NBC doesn't have the rights to stream the awards show it has broadcast for over 40 years.
"NBC does not have (and has never had) the streaming rights to the Globes and it is something we are actively working on and hope to have in the near future," a representative for NBC told Inverse over email.
Even top-tier subscription services like DirecTV Now, PlayStation VUE, and Sling TV had nothing for the Globes, meaning pretty much everyone without a television antenna or cable provider were left in the dark. That's a lot of people: 15 percent of American adults don't have cable or traditional television access, according to the Pew Research Center found in a 2015 study on cord-cutting. DirecTV apparently worked during the red carpet pre-show, but once the actual ceremony started the stream was axed.
Many were also apparently upset because the network was heavily publicizing the event, even with a banner across the site reading "Don't miss the Golden Globes tonight." NBC touted "Follow LIVE coverage," which took the form of social media content.
The Facebook page was continuously updated throughout the night, with posts announcing the winners and video clips of victory speeches. On Twitter, there was a live broadcast of red carpet coverage.
With the major push for Facebook to "become video first," it's possible that NBC and the Golden Globes were trying to drive engagement to their social media pages. As of Monday morning at around 11 a.m. Eastern, the clip of Meryl Streep accepting Cecil B. DeMille Award has over 7.3 million views alone. By divvying up these speeches into a number of different videos, the Golden Globes page has gotten a massive amount of play.
Without an actual live stream, fans were basically forced to stay updated via the Awards' social media pages and other twitter users, creating even more buzz about the ceremony online.
This isn't the first time that a network has been under fire for not providing an option for people to watch an award show through an internet channel, or if they did, a shoddy one. For the 2016 Grammys, people paying $5.99 a month for All-Access service from CBS had their live stream cut off right before the actual award show actually started. They of course, also voiced their frustration with the network on social media and had to find other means to watch.
Meanwhile, other award shows like the American Music Awards and 2016 Emmys were available to live-stream on ABC. Since this year's Oscars will be on ABC, it's likely that there will be an option to watch online, unlike the Golden Globes. But we'll have to wait and see to make sure the network doesn't shake things up like NBC.