Batman Rallies the Justice League, Sans Superman, In New Photo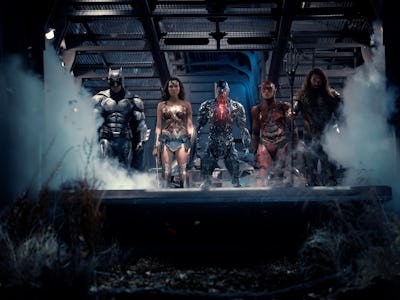 Warner Bros.
At last, the World's Finest will unite this November in Zack Snyder's Justice League, and a new photo shows the team looking ready for a fight. Superman (Henry Cavill) is still absent, but there's little doubt he'll join up with his new pals later in the film.
Looking as if they're about to escort a payload in Overwatch, the Justice League — Batman (Ben Affleck), Wonder Woman (Gal Gadot), Cyborg (Ray Fisher), the Flash (Ezra Miller), and Aquaman (Jason Mamoa) — stands united in the new picture inside a smoky spaceship-like transport. While all steel cargo bays look alike, it might also be where Deathstroke (Joe Manganiello) appears based on the "leaked" cell phone video posted by Batman himself, Ben Affleck, several months ago on his Facebook.
This transport may also be the template for the Justice League Watchtower, the monolith spaceship that serves as the League's headquarters that resides over Earth's atmosphere. Not a single dollar of the Wayne fortune goes wasted, to the benefit of the League. Wayne also builds Barry Allen's the Flash super-suit, so, Bruce is trying really hard to make friends.
Speaking of super-suits, also check out Batman's new costume. It's an upgrade from the weaved spandex Batman wore in Batman v Superman: Dawn of Justice. In Justice League, Batman's has changed into a new layered armor suit with tactical goggles on his cowl. The goggles were teased for a brief moment early in Dawn of Justice.
Check out the photo in its full 4K glory below.
Justice League will be released November 17.