How to Watch SpaceX's Falcon 9 Launch Monday
Join the livestream for SpaceX's first launch since their September explosion.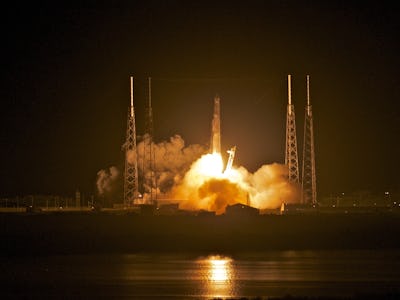 Getty Images / Roberto Gonzalez
Update: SpaceX has delayed the launch due to adverse weather conditions. The new launch is scheduled for January 14, at 12:54 p.m. EST.
On Sept. 1, 2016, SpaceX's Falcon 9 rocket exploded on the launch pad while being fueled for a static fire test. SpaceX has scheduled its first launch since the explosion for this Monday, January 9. at 10:22 a.m. PST at Vanderberg Air Force Base in California — assuming that the weather will cooperate, of course. Monday's forecast is currently calling for scattered showers, so hopefully all will go smoothly.
And what fun is private space flight if we can't get involved? You can tune in to watch the launch live from the comfort of your own home (or on your computer at work). As usual, SpaceX will broadcast the launch via its webcast, so you can vicariously experience the thrill of shaking loose the tyrannical force of gravity. We will update this story with more specifics as they are made available.
This event will be a big deal for the company, whose last successful launch was in August 2016, when it sent a Japanese communication satellite up and safely landed on a droneship in the Atlantic Ocean.
The Falcon 9 rocket will carry ten Iridium Communications satellites into Earth's orbit. Six more launches, each carrying ten satellites, are scheduled to follow this launch.
This launch has already made it further than September's did, with Iridium announcing a successful static test fire on Jan. 6. Iridium tweeted the announcement, and SpaceX's official account retweeted it.
According to SpaceX's latest anomaly report, the explosion was caused by a failure in "one of the three composite overwrapped pressure vessels (COPVs) inside the second stage liquid oxygen." And while this failure exposed itself during preparations for a static test fire, the recent successful static test fire makes us hopeful that they won't run into this same problem again. Of course, there's always the possibility that a new problem arises, but let's not focus too much on that until it's time. Let's tune in on Monday and hope for the best.