Egg-Shaped Kitchen Assistant with A.I. Helps Plan Meals
Hello Egg is the ultimate culinary wingman.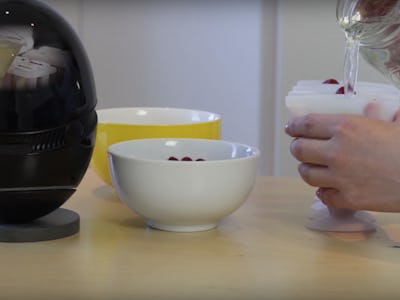 YouTube
Unveiled this week at the Consumer Electronics Show, a new artificial intelligence-based kitchen assistant is aiming to revolutionize the way people cook at home. Produced by tech startup RnD64, Hello Egg and companion app Eggspert can organize weekly meals around specific dietary needs or preferences, supervise a pantry, whip up a shopping list, and order groceries. Basically you'll never need to do anything again, except cook, that is. But Hello Egg can help you there, too.
The surface of the egg contains both a speaker and screen (on which Hello Egg can also convey emotion via facial expressions) that plays video tutorials and step-by-step verbal instructions to help someone preparing a meal. The Eggspert app is also backed by a support team of culinary experts who can step in to help out in a pinch. Dmytro Shemet, CEO of RnD64, said in a statement, "With Eggspert, we apply AI not only to facilitate the user's kitchen experience but also to analyze their nutritional needs and optimize their cooking process on every level."
Through its application, Hello Egg, were it to be widely adopted, could also have broader effects on food consumption. By managing and curating grocery lists, for example, it can prevent people from purchasing too much food — something that leads to increased food waste. Similarly, Hello Egg could lead to more home cooked meals in an era where it's easier than ever to go out or order in. For many people, this could give rise to healthier, more discerning eating habits. In 2014, research from the Johns Hopkins Bloomberg School of Public Health found that people who cook at home eat healthier and consume fewer calories.
Going even beyond its own functions, Hello Egg taps into what is set to be an emerging trend in the way people interact with food. With the growing, dual threats of overpopulation and climate change, food management and allocation are going to become highly important over the next few decades. As Wired notes, innovative forms of artificial intelligence are uniquely poised to tackle these challenges. Advancements such as an app that can diagnose crop sickness through a photograph or satellites that can track and predict weather patterns light droughts will optimize our food supply. Combined with more localized optimizations like Hello Egg, the future of food is looking tasty indeed.