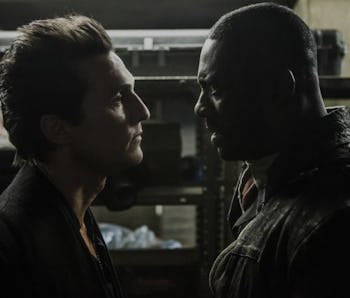 Entertainment
Matthew McConaughey's 'Dark Tower' Role Isn't Another Supervillain
Matthew McConaughey makes unpredictable career choices, but the man famous for the line "time is a flat circle" is a perfect fit for the nefarious Man in Black in Stephen King's The Dark Tower adaptation. But, although the series has a cult following, it doesn't have the universal name recognition of a franchise like Guardians of the Galaxy. That didn't stop McConaughey from passing up the Marvel gig in favor of The Dark Tower — for good reason.
In a recent Playboy interview, McConaughey explained why he was drawn to the the devilish Man in Black instead of accepting the role as the villain in Guardians of the Galaxy Vol. 2:
I like Guardians of the Galaxy, but what I saw was "It's successful, and now we've got room to make a colorful part for another big-name actor." I'd feel like an amendment. The Dark Tower script was well written, I like the director and his take on it, and I can be the creator, the author of the Man in Black a.k.a. the Devil in my version of this Stephen King novel…I enjoyed approaching my character as if I were the Devil having a good time, getting turned on by exposing human hypocrisies wherever he finds them.
With the exception of Loki and Heath Ledger's Joker, it's true that villains are not typically the strongest points of the average superhero movie. Even an actor as dynamic as Oscar Isaac found himself lost beneath caked-on makeup and nonsensical plotting when he stepped up in X-Men: Apocalypse.
On the other hand, Stephen King's Man in Black — also known as Walter or Randal Flagg — is basically every superhero antagonist combined: He's got magical powers, which makes sense why McConaughey would turn down a role in Doctor Strange. He's got a Joker-esque desire to bring down civilization, and he wants to claim the Dark Tower for himself to become a god, like Oscar Isaac's Apocalypse or Cara Delevingne's Enchantress. In short, why should Matthew McConaughey play just one superhero villain when he can play a character who is all of them rolled into one?