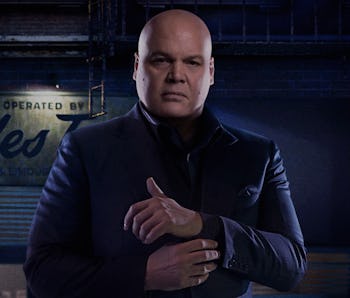 Entertainment
Why Vincent D'Onofrio's Wilson Fisk Shouldn't Be in 'Defenders'
Vincent D'Onofrio's turn as Kingpin in Netflix's Daredevil is one of the biggest highlights to come out of Marvel's Defenders universe. But even if he's not going to appear in the 2017 crossover series of the same name, Kingpin is too important for Netflix to ignore — but they should only have him pop up for limited engagements for maximum impact.
In a recent Twitter exchange, D'Onofrio confirmed that there is "no chance" his character will be appearing in Netflix's upcoming Defenders series. However, when followed-up about whether Fisk would ever return to the Marvel universe, D'Onofrio revealed to Collider that "[Wilson Fisk] will, eventually. Honestly, I wish I knew 'cause I could plan my year better. I know he will come back, I just don't know when. I can't wait to find out."
This is incredibly heartening news, not only because fans will get to see more of New York's favorite crime boss, but also because it means Netflix and Marvel are being careful about his appearances.
While Fisk would have made a cool addition to The Defenders, the series already has a more-than-capable villain in Sigourney Weaver, and so far Netflix and Marvel have a far stronger record of creating new and exciting villains than their cinematic counterparts. A chance to see Weaver take center-stage in the Defenders as the newest villain is too good for Marvel or Netflix to dilute by throwing Fisk into the mix.
Additionally, Wilson Fisk would have to punch far above his station if he was The Defender's main villain. As a savvy crime boss, Fisk works best on the street and corporate levels of villainy. In order to get Daredevil, as well as the superpowered Jessica Jones, Luke Cage, and Iron Fist to team up against him, he would have to become cartoon levels of villainy to become a credible threat- something that would ultimately be a detriment to the complex character.
While fans won't have to worry they've seen the last of Wilson Fisk, especially after his cliffhanger story-arc in Daredevil season 2, it probably won't be until the third season of Daredevil or even Netflix's Punshier until he reappears.