Panasonic Just Gave Tesla a $255 Million to Build Solar Cells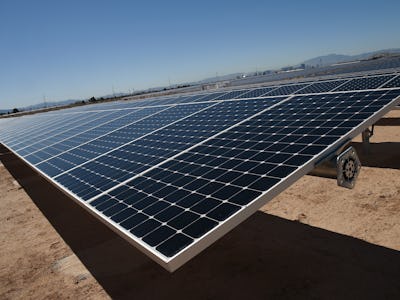 Getty Images / Ethan Miller
Elon Musk's solar panel efforts just got a big boost. On Tuesday, tech giant Panasonic announced plans to invest over 30 billion yen (or $255 million) in Tesla's solar cell efforts. The New York production facility behind Tesla's efforts will start producing photovoltaic cells by the summer of 2017, with a view to increase output to one gigawatt in the following two years.
It's all part of a wider "solar partnership," announced back in October but with little in the way of detail. The deal makes sense: although Tesla has achieved a lot in a short space of time, Panasonic has nearly 20 years of experience working with solar tech, and can provide a valuable resource to engineers going forward.
It's been a busy few months for Musk's plans to develop cleaner energy. In November, Musk finally achieved one of his long-term goals to merge Tesla with SolarCity, another venture he co-founded that focuses on mass market solar products. The synergy makes sense: Tesla's car battery research is ideal for developing solar energy storage solutions, and the merger allows the two companies to collaborate on further research.
Musk has been eager to draw the two companies together and get Tesla focusing on clean solar products. In October, he laid out three goals for the sustainable future: electric cars, solar roofs and giant batteries. The missing piece of the puzzle, the roof, was revealed during the same presentation as the Tesla Glass Tile, a durable and appealing solar roof panel that could help bring renewable energy to the masses.
The Tesla-Panasonic deal includes a long term commitment on Tesla's part to buy from Panasonic, and the latter company is currently the exclusive provider of Model 3, Model S and Model X Tesla batteries. However, the deal will likely prove beneficial to both companies in terms of solar energy, popularizing a nascent renewable and developing it for a wide audience.