How to Get the Most Out of the Steam Winter Sale
Slay those percentages. Rock the homepage. Go for quantity in indie and quality in triple A games.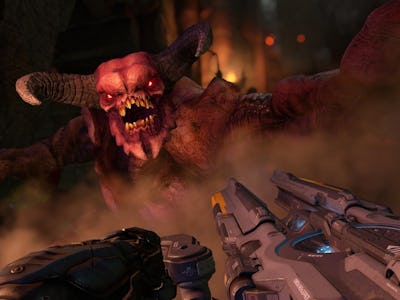 Doom
In the land of Steam seasonal sales, percentages are king.
Valve's seasonal Winter sale on Steam is upon us, offering up a plethora of deep discounts just in time for the Holidays. Having done away with flash sales in recent history, Steam now offers a relatively level playing field for gamers to purchase their discounted games for the entire duration of the sale, which is currently live and will conclude on January 2, 2017 at 2 p.m. Eastern.
With no more flash sales, buyers stricken with FOMO need not worry about missing any specific sales should they be working or sleeping or, of course, gaming. Even then, there's still a lot gamers can do to optimize their game-buying and get the best bang for their buck this Winter Steam sale.
The folks at Steam will do you the solid of letting you know the exact percentage of a discount in the bottom-right corner of each image advertising a game, highlighted in Kermit-green. The vast majority of the Doom franchise, for instance — including the 2016 rebirth of the demon-slaying commando — is reduced by 67 percent. But keep in mind that 70 percent means something very different when the full price is $49.99 versus $9.99.
Many of the games plastered across the Steam homepage represent some of the best deals available right now — assuming you value timeliness in your gaming — but top featured games will rotate in and out of such prominent spots in 24-48 hour spans, so checking back on the homepage every couple days isn't a bad idea if you're not game for a deeper dive into the Steam library.
You're bound to see significant discounts on a number of games released in the past half-year with this perhaps being the lowest price anyone's seen of them yet, but even some slightly older under-the-radar picks will be discounted too. Storewide discounts on games not released in the past six months can vary wildly, considering natural depreciation discounts, but some of the highlighted deals on the front page will be the most expensive at face-value yet still offer the greatest dollar savings for the quality. These highlighted deals be the bread and butter of every seasonal sale, so you might want to jump at the opportunity if you've had your eye on some of these games for awhile.
In this sense, you'll be getting your best value if you go for the AAA games that originally released in early- to mid-2016, as they'll likely be offering up high-percentage sales right now. We're looking at you DOOM and The Division, both of which are totally worth picking up if they're not in your library yet.
The smartest possible thing you can do, however, is go for the AAA games that are at least three years old. Did you have any idea that you could scoop the Batman Arkham City Game of the Year Edition for $4.99? Look for some of the top games from 2011, especially the AAA titles, and you'll be gaming in style.
The older indie games are even more worthwhile in some cases. 80 percent off Insurgency means you can scoop the base game for less than 200 pennies and start gunning your way through the first-person shooter infiltration experience. Games like this that released in 2014 and have maintained very positive reviews since then are by and large the best value you'll find in this Winter sale. PC — and Steam especially — are where indie games thrive, so digging into them at a cheaper price will definitely get you more hours of enjoyment than pricier, newer options that may or may not be better on consoles anyway and at the same price point from the likes of Amazon.
What you'll likely want to do before every future sale is stock up your Wishlist with every game even remotely on your radar, no matter how old. That way, you'll get a notification if and when they go on sale, the best of which might happen during one of these upcoming seasonal sales. It's a bit too late for that now, but it can't hurt.
With Steam having done away with any fluctuations like daily sales and flash sales, the price you see is the best it's going to be in the near future, so if you're on the fence, you might as well just go for it.