Uber's Assembled a Fleet of Sweet New Teslas for the Rich in Madrid
Travel around Madrid in style.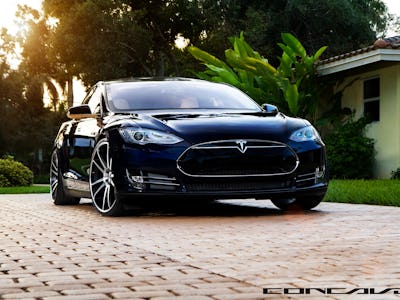 Concavo/Flickr
If you find yourself in Madrid soon and want to take a spin through the city in a quiet, electric, fast Tesla, it'll be as easy as hailing an Uber. Just make sure you've got the cash.
UberONE, a new premium tier for the ridesharing service, had its world's first launch this week in Madrid, providing a higher quality of taxi service for those used to the finer things in life.
When we say premium, we mean it. The service uses a Tesla Model S vehicle valued at over $80,000, leading the green revolution one diamond-studded checkbook at a time. Every car comes with a Surface Pro 4 tablet inside, complete with free internet access and Spotify for pumping through your favorite tunes.
These journeys won't come cheap: where a trip between the business district of Cuzco and the airport normally costs around $20 with UberX, while UberONE passengers can expect to pay over $30 for the same trip.
It's an extravagance many won't be able to make a habit of, but the company is hopeful the environmentally-friendly vehicles will convince residents that Uber can help reduce emissions. Uber was banned in Spain two years ago, after a judge ruled that it did not comply with regulations, but it returned in April with an altered licensing structure.
"We would love to see more licenses awarded in the future, perhaps for greener cars so there could be more in circulation," said Carles Lloret, managing director for Uber's southern Europe division, in a report published Thursday.
It's not the only company that recognizes the positive impact of Tesla. The car maker has previously suggested it wants to join in the rideshare market, preferring to use autonomous cars to ferry passengers around. Tesla owners could sign their vehicles up for the service and earn money while their car is not in use.
The Tesla model may be some years away for both regulatory and technical reasons, but it may aim for a slightly different market to Uber. Where the Madrid service is offering optional extras to develop a premium feel, Tesla may push for a more accessible approach. But if any company knows anything about pushing for premium, it's Tesla, which originally got its start selling luxury sports vehicles to rich people. UberONE may be expensive today, but it's possible these prices decrease as they reach a wider audience.