7 Actors Resurrected On-Screen Like Peter Cushing in 'Rogue One'
People are up in arms over Cushing's CGI double in the latest 'Star Wars' movie, but this isn't the first time it happened.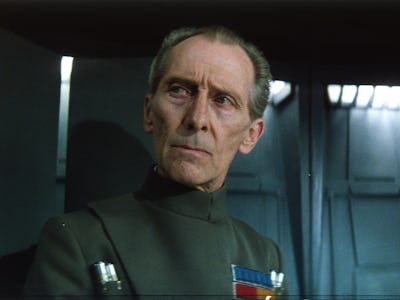 YouTube
Actor Peter Cushing gave one of the most divisive performances in a film this year, and he's been dead for over two decades. Viewers of the first standalone Star Wars movie, Rogue One, have been up in arms over the inclusion of Cushing's iconic character, Grand Moff Tarkin, as a serious supporting character despite the actor no longer being around to give the performance. Instead, the creators of Rogue One relied on some CG trickery so the resurrected Cushing could achieve digital immortality. ILM artists grafted Cushing's computer-generated visage onto actor Guy Henry, who served as a performance stand-in.
It's a wonder of special effects wizardry, but one that some find to be a bit morally reprehensible. But it's not like that kind of thing hasn't been going on in cinema history for awhile. Here are seven other examples of posthumous performances given by some notable actors.
7. Peter Sellers in Trail of the Pink Panther
Peter Sellers passed away in 1980, but that didn't stop the filmmakers behind 1982's Trail of the Pink Panther in coming up with the questionable decision to use deleted scenes of the extremely talented Sellers as the hilarious, bumbling Inspector Clouseau cut from the previous three Panther movies to patch together a new 96-minute feature.
In a Chaplin-esque touch, Sellers would often try many different takes and often improv during scenes, which gave the filmmakers behind Trail of Pink Panther enough material to try and make it work. But it only did the trick for so long. The second half of the movie consists of characters being interviewed about their recollections of Clouseau, which was another way to keep adding in unused footage of Sellars to complete the new movie. Bonus points for the editors being savvy enough to at least try to work around the problem.
6. Roy Scheider in Iron Cross
Perhaps best known to film fans as the beleaguered Chief Brody from Jaws, Roy Scheider embodied a type of everyman that typified New Hollywood cinema of the 1970s. With equally memorable turns in films like The French Connection, Marathon Man, and Sorcerer, his final on-screen appearance came a year after his death in 2008 in a forgettable movie called Iron Cross. Unfortunately for the filmmakers, Scheider didn't complete his performance as a retired NYPD cop-turned Nazi hunter, so they were forced to use both high and low tech to complete the film. Director Josh Newton went so far as to use a latex mask and CG touch-ups to finish one final scene.
5. Oliver Reed in Gladiator
Probably the best and most well-known digital fix after a notable actor's death was Oliver Reed's performance as the slave-owning savior Proximo in Ridley Scott's Gladiator. Reed died of a heart attack during a break from filming Gladiator, but hadn't finished all of his scenes. Suddenly faced with the problem of not having a major character factor into the climax of his film, Scott had CG version of Reed's face digitally pasted onto a stand-in in post production at a reported cost of $3.2 million for two minutes of screentime.
4. Bruce Lee in Game of Death
Lee is perhaps best known for his inimitable kung fu classic Enter the Dragon, which itself was first released in the U.S. a month after his death in July 1973. But five years after Lee died of cerebral edema, Enter the Dragon director Robert Clouse was tasked with completing an unfinished film called Game of Death that Lee originally tried to write and direct in 1972. Unfortunately, Klouse delivered an embarrassing assortment of techniques to mask the fact that Lee was no longer with us, including obvious continuity errors and cut-arounds, and even having a stand-in sit in front of a mirror with a cardboard cutout off Lee's face attached to it. Something tells us this isn't the way Lee would've wanted to be remembered.
3. Paul Walker in Furious 7
One of the other more high profile digital cinematic replacements was actor Paul Walker's swan song in the hugely popular seventh movie in the Fast & Furious series. Walker died in a tragic car accident in November 2013, only two months after filming began on the nearly $200 million blockbuster. The production had to come to a halt for filmmakers, including director James Wan, to retool the last half of the movie to be able to wrap up Walkers character Brian O'Conner's storyline. Hidden camera angles and stand-ins, including Walker's brothers Caleb and Cody, were used to simulate Walker's appearance in certain parts of the movie. For other instances, like the ending, filmmaker Peter Jackson's VFX company Weta Digital recreated Walker's face.
The film ended up being dedicated to Walker's memory. As Wan told Collider:
Finishing the movie was the last thing on my mind at that point. It was more the idea of… picking up the pieces, going back on set, rallying the team, the cast, and the crew, and as the director, having to put on the brave face and champion and push everyone along. The idea of that was very daunting for me, but it became very apparent to all of us that we needed to finish this movie to honour Paul's legacy and to basically honour his memories… it was about making this movie for Paul."
2. Laurence Olivier in Sky Captain and the World of Tomorrow
15 years after he shuffled off his mortal coil, requisite thespian and stereotypical British person Sir Laurence Olivier appeared as an evil hologram named Doctor Totenkopf in the highly stylized art deco adventure film Sky Captain and the World of Tomorrow. Director Kerry Conran resurrected Sir Laurence using digitally manipulated footage culled from BBC tapes. He's still got it, even from beyond the grave.
1. Marlon Brando in Superman Returns
Notorious curmudgeon genius Marlon Brando worked on the first Superman movie in 1978 for just over a week. For his brief services as Jor-El, the honorable father of the man of steel, he pocketed a cool $3.7 million and nearly 12 percent of the gross profits of the film (equalling about $19 million in all). It seems the filmmakers behind the 2006 pseudo-sequel, Superman Returns, figured he needed to work a bit more to really earn his keep. There was just one problem: Brando died in 2004. But to bring Jor-El back to the big screen as a way to bridge the distant Kryptonian connections in both films, director Bryan Singer used unused visual and ADR elements from the 1978 original, and the final product is totally justified for the movie he made.
"If we could get to hear Marlon Brando's voice as Superman's conscience it would be the best way to convey that Superman is looking for his place in the universe," co-screenwriter Dan Harris told IGN in 2006, "That he's not alone. He is not one of them, but he's there for a reason."