Denis Villeneuve Might Be Directing the 'Dune' Reboot Too
He's rapidly becoming the biggest science fiction director in the world.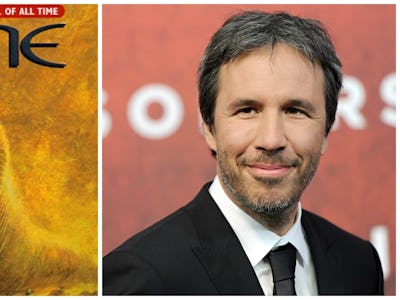 After Blade Runner 2049, it looks like Denis Villeneuve might be tackling another beloved science fiction classic: Legendary Picture's impending reboot of the mega-famous Frank Herbert novel, Dune.
Back in September Villeneuve told Variety that he really wanted to direct a new version of Dune saying, "A longstanding dream of mine is to adapt Dune, but it's a long process to get the rights, and I don't think I will succeed." And now it looks like his dream might actually happen. On Wednesday, Variety reported that "sources" claim that Villeneuve is "in early talks to direct Legendary's Dune reboot for the company."
After this year's success with the critically acclaimed and financially successful science fiction film Arrival, plus next year's Blade Runner sequel, Villeneuve is rapidly becoming the sci-fi director to watch out for. And if he does end up directing the new Dune, it will be his third time working on a serious science fiction film which is adapted from print; Arrival was based on a short story called "The Story of Your Life" by Ted Chiang, Blade Runner is based off the Philip K. Dick novel Do Androids Dream of Electric Sheep?, and Dune is obviously based on Frank Herbert novel of the same name. Considering the faithfulness of Arrival to its source material, and Villeneuve's Dune could be the most faithful yet.