The 7 Best Fantasy Books for the Holiday Season
Whether you're looking for a last minute holiday gift or want a story for yourself, here's fantasy that isn't grimdark.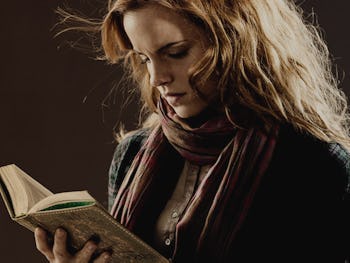 Thanks to the popularity of Game of Thrones, recent fantasy has been overtaken by grimdark, a trend that is exactly what it sounds like. Filled with blood, battlefield casualties, sex, cursing, and no guarantee of happy endings, it's not exactly your childhood trip to Narnia or The Shire. It emphasizes harsh reality over idealism, as much as it can be in fantasy. And while grimdark certainly has its place in the world of storytelling, during the holiday season, it's not the kind of tale that beckons you to read by the fire while drinking hot chocolate. If you're looking for a warm-hearted fantastical novel to give as a gift or to read yourself, try one of these instead.
1. The Night Circus by Erin Morgenstern
If your city's local Christmas market could be distilled into a book, it would be this book. Centered around a mysterious traveling circus with old-timey magic and fortune telling, and vaguely steampunk elements, this is an adult fairy tale that's heavy on atmosphere and light on plot. But its imaginative enough to sit back and enjoy the ride. If you like shows like Penny Dreadful and movies like The Prestige, this is right up your alley.
2. The Great Night by Chris Adrian
This is a strange, trippy, sexy modernized Midsummer Night's Dream, with three lovers instead of four and Oberon and Titania's fairy kingdom in San Francisco. It's messy and not for the faint of heart, but its gorgeously written and pulses with magic.
3. Neverwhere by Neil Gaiman
Neil Gaiman's American Gods is his best work, but Neverwhere is his most whimsical adult novel. It's a fairy tale involving talking rats and alternate versions of London. Think Stranger Things if it was British and starred a bashful Eddie Redmayne type instead of a group of kids.
4. The Golemn and the Jinni by Helene Wecker
An unlikely friendship forms between two creatures from Jewish and Arabic folklore in historical New York. It's quiet and contemplative like Brooklyn, but with a fantastical angle.
5. Carry On by Rainbow Rowell
If you've still got Harry Potter nostalgia, but have read it 500 times and want something new, this is simultaneously a homage, a piece of Harry Potter fan fiction turned real, and a commentary on the series.
6. The Princess Bride by William Goldman
Everyone in the world has seen this movie, but they might not realize it's a pop culture unicorn: It's based on a book that's very different, but both are equally good. But as much as they diverge, the novel is filled with the same mischievous sense of humor and genuine joy.
7. The Winter Sea by Susanna Kearsley
A more concise version of Outlander without the squishy sexual politics. It's the perfect fireside read if you want to take a trip to Scotland without leaving your house.
Whether you're looking for a last-minute holiday gift or an imaginary world to escape in during a stressful family gathering, you can't go wrong with any of these stories.