YouTube Prankster Kicked Off Delta Flight for Reportedly Speaking Arabic
Many have come to defend him while others are skeptical about what really happened.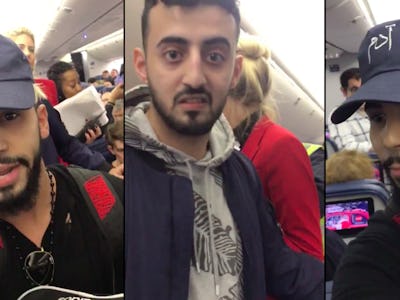 Twitter
Early Wednesday morning, YouTuber Adam Saleh posted a video on Twitter of he and his friend Slim Albahe being escorted off of a Delta Airlines flight. According to Saleh, they were kicked off the plane after speaking Arabic on the phone with his mother. Within just a couple of hours of being tweeted out, the video has garnered significant attention from the internet. This wouldn't be the first time that an airline had wrongfully kicked someone off for discriminatory reasons. People are in uproar over Saleh's situation, but also, there are a few still unanswered questions about the incident.
The video starts off with Saleh walking off of the plane with Albahe behind him. Saleh says, "Guys, we spoke a different language on the plane and now we're getting kicked out … this is 2016 and Delta Airlines is kicking us out because we spoke a different language." He continues to pan the camera around and begins calling out many of the people that are just sitting while he's being ejected. Meanwhile, another passenger nearby can be seen defending Saleh and Albahe, also expressing his frustration.
Many people online have galvanized behind Saleh, with the video going viral since being posted early Wednesday. Supporters have tweeted at Delta their anger over the situation.
Saleh has kept his followers updated by posting a slew of other videos, including a Periscope broadcast of himself crying after the incident. After being escorted off the plane, he said that they were stuck at the airport and that the police were brought to talk to him and Albahe.
Saleh says that they were then put through security check again and then headed to their original destination, New York City, on another airline. He also said he will be contacting his lawyer once they get back home.
In response to Saleh's tweetstorm and the many other people coming to his defense, Delta has released a statement.
"Two customers were removed from this flight and later rebooked after a disturbance in the cabin resulted in more than 20 customers expressing their discomfort. We're conducting a full review to understand what transpired. We are taking allegations of discrimination very seriously; our culture requires treating others with respect."
This isn't the first time that an airline has wrongfully dismissed a customer. In October, United Airlines kicked off a woman for wearing a Black Panther hat. And Southwest also ejected a passenger for speaking Arabic, but asserts that they did so because of the content of the conversation and not simply because he was speaking the language.
With Saleh's situation, there are questions about the legitimacy of the situation as Delta begins its investigation. Many have pointed out that Saleh is a prominent YouTube prankster. Last week, airline Tigerair and the Melbourne Airport security was quick to point out that his claims of smuggling himself on a plane to another city by packing himself into a suitcase were false. Furthermore, many of his prank videos on YouTube incorporate "racial profiling." One of them which shows an NYPD officer appearing to racially target Saleh was also accused of being a hoax.
In the video that Saleh posted, it's not clear why the staff was escorting him off the plane. Of course, expecting him to have actually filmed himself speaking Arabic and being asked to leave is unrealistic. It'd make sense that he'd be filming once shit hit the fan. But because of his past murky actions of putting forward something as truthful when it really wasn't, some are skeptical that his is just another hoax.
No matter what really happened, this situation is bad. Either Delta really did kick off Saleh for speaking Arabic — which is obviously racist to an extreme — or, Saleh has lied or severely exaggerated, something that dilutes claims by people who may actually experience this sort of intolerance.