United Kicks Woman Off Plane for Wearing Black Panther Comics Hat
She was also wearing a t-shirt with an upside-down American flag that made the pilot "uncomfortable."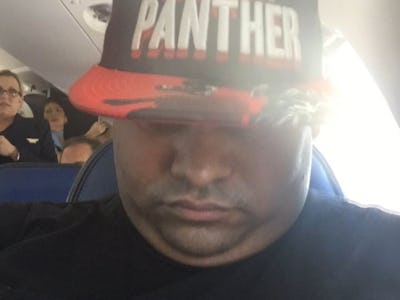 Twitter/@sagegnosis
A woman was kicked off of a United Airlines flight on Wednesday because her inverted U.S. flag t-shirt and baseball cap with the Marvel comic character Black Panther on it both made the pilot "uncomfortable."
Amanda Stevens, a freelance esports journalist, was on a flight headed from Albany to Chicago so she could cover the League of Legends quarterfinals, when flight staff took issue with her attire.
Stevens was wearing a black t-shirt with an upside-down American flag. The shirt was designed by rapper A$AP Rocky for PacSun, but pulled from stores in 2015. Stevens told io9 that she had worn the shirt while flying before, but had turned it inside out, presumably to avoid a situation like this.
Stevens told io9 that an airline representative had confronted her about the shirt and hat while boarding the plane
"Dear @united this shirt shouldn't make your pilot uncomfortable enough to warrant having me spoken to and told to take it off," Stevens tweeted.
Once she'd taken her seat, a flight attendant asked her to put her bag under the seat in front of her in a tense exchange. Stevens said she "was frustrated," and grumbled "I didn't know if I was going to be staying on the plane or not."
That exchange, following the earlier confrontations about her attire, was the reason the airline told Stevens she was being kicked off the flight.
"All I wanted to do is go to #Worlds," she wrote, later adding "Thanks for the support. Fuck the hate. I just want to be in Chicago focused on work."
Cass Marshall, a friend of Stevens who was speaking for Stevens in the wake of the incident, told Inverse that she had eventually boarded a plane, but was "still dealing with an understandable amount of anxiety from the ordeal."
When Inverse asked if the pilot or any other airline reps had any idea that Black Panther was a Marvel comic book character who recently appeared in a major movie, Marshall said Stevens never got a real chance to explain. "The airline did not seem interested in a dialogue with Amanda regarding her attire," Mashall told Inverse.
The Official United Airlines Twitter account direct messaged Stevens, and after several hours of delays and general coldness from the airport staff, Stevens boarded a flight.
United Airlines then sent io9 a statement that wasn't actually about Stevens but had in fact been written in response to another unrelated controversy that took place two weeks ago.