The Best MMOs to Obsess Over During the Holidays
If you've got time to kill, these MMOs can take it from you with ease.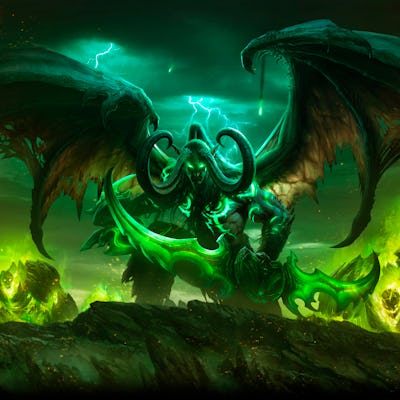 Blizzard Entertainment
It's no secret that massively multiplayer online titles like World of Warcraft and The Elder Scrolls Online can consume heaps of time no matter how you approach them as a player. In most MMOs, you'll have to make it past the initial leveling process with your character, dive into end-game content, and build up a massive collection of good equipment to continue progressing. It isn't easy. But that's where the holiday break comes in.
The holidays have always been known as a time to catch up on the backlog. So whether you're looking for an MMO to get into with some friends, or hoping to catch up on some content you may have missed this year from an old favorite, here's some of the best MMOs to spend time with between now and the new year.
Star Wars: The Old Republic
Back when BioWare and Electronic Arts first released Star Wars: The Old Republic, the game was met with mixed reception due to its single-player focused experience being mixed with MMO-like combat mechanics and group activities. As time went on, the development team continued to perfect the blend of the two — and at this point? Well, they've nailed out something special for Star Wars fans that isn't just another arcade shooter like Star Wars: Battlefront.
This year marked the release of the Knights of the Eternal Throne expansion for Star Wars: The Old Republic — the sixth digital expansion so far. Released on December 2, Knights of the Eternal Throne continues the story of the previous expansion as you lead the Galactic Republic and Sith Empire against the new ruler of the Eternal Empire, Empress Vaylin. Even though it may not be the most traditional MMO experience, SWTOR offers one of the best BioWare-driven Star Wars stories to date, with each major class having a separate experience. If being a solo MMO player is more your thing, the latest update is worth checking out.
The Elder Scrolls Online
While it may not be the traditional Elder Scrolls experience you probably fell in love with, The Elder Scrolls Online is an interesting take on the MMO genre, with some great ideas. Now that the game has seen numerous updates, including the addition of a free-to-play model and One Tamriel, ESO is worth playing if you're looking for a new way to experience more of the Elder Scrolls world. Unlike World of Warcraft and Star Wars: The Old Republic, it's also available on both Xbox One and PlayStation 4, meaning you can dive in as a console player without having to purchase or build a PC.
Like World of Warcraft, The Elder Scrolls Online now features a level-scaling mechanic that essentially removes all barriers traditional MMO models might have used in the past. Instead of only building this system into new content, The Elder Scrolls Online development team opted to place it throughout the entire game, eliminating exploration restrictions based on level, the inability to journey with friends based on playtime, and so much more. They've also just introduced a new event system into the game, allowing you to get some holiday cheer on with your friends in Tamriel.
Final Fantasy XIV: A Realm Reborn
Originally released in 2010 as just Final Fantasy XIV to an overwhelmingly negative response from fans, Final Fantasy XIV: A Realm Reborn is a labor of love from Square Enix. Designed from the ground up, A Realm Reborn delivered on its promise to build a world filled with everything that Final Fantasy fans could fall in love with all over again — complete with chocobos, flashy combat mechanics, and beautiful landscapes to explore.
The development team also introduced one of the most revolutionary takes on the traditional MMO class/skill system, too, which allows you to swap your class around on the fly. In Final Fantasy XIV: A Realm Reborn you don't have to create a new character for every class you want to play, you can simply swap between them as you please and work on your character's skills at will. Like ESO, you can also play A Realm Reborn on console, too, and even join your friends on PC thanks to cross-network capabilities.
World of Warcraft
Blizzard Entertainment has had a good 2016. While this year was inarguably the year of Overwatch, World of Warcraft's sixth expansion, Legion, has been one of the best the game has ever seen — complete with massive overhauls to key systems which brought thousands back to Azeroth.
Legion follows the end of Warlords of Draenor as the aptly named Burning Legion invades Azeroth, packing the leveling experience from 100 to 110 with some of the best writing and quests present in World of Warcraft. More importantly though, Legion completely changed the leveling experience for players with the introduction of level scaling and Artifact Weapons, both of which are worth diving back into to experience for yourself. The end-game content has continued to flow with regular updates, too, which means you'll always have new content to experience if you complete everything over the holidays.