Goldar Revealed as Final Monster in 'Power Rangers' Reboot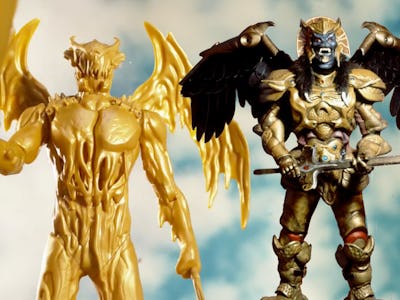 Facebook.com/Power Rangers, Saban Brands
The most loyal general in Rita Repulsa's army, Goldar, may be the final enemy in the upcoming Power Rangers film from Lionsgate. And in 2017, Goldar is getting a serious makeover.
In the cult classic TV series from 1993, Goldar strongly resembled a Flying Monkey from The Wizard of Oz on steroids. But in a new commercial advertising the film's Megazord and Goldar toys, we see a golem formed out of molten, melted gold. Goldar bears a similar shape to the Megazord, hinting exactly how Rita might create the iconic monster in the film. Goldar still has wings and a sword, just as he did in the TV show, but he also doesn't look like an evil primate like he did more than two decades ago.
The change is one of many new visual directions for Dean Israelite's reboot adapting the '90s staple Mighty Morphin Power Rangers. That show in turn was based on the 1992 Japanese series Kyōryū Sentai Zyuranger, the 16th season of the long-running Super Sentai series. Zyuranger was loaded with fantasy literature allusions to Tolkein, Camelot, and The Wizard of Oz, which appears to have been lost for the 2017 film, which favors a more general sci-fi blockbuster design.
Check out the toy commercial below.
Power Rangers will be released March 24, 2017.