12 'Star Wars' Fans on Why 'Rogue One' Gives Them a New Hope
The message of 'Rogue One' seems especially important in a post-Trump world.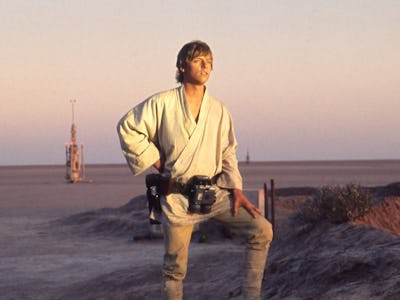 StarWars.com
As the Rebel Alliance takes on the Galactic Empire in the new Rogue One: A Star Wars Story on December 16, some of the film's messages seem especially poignant due to America's current state of affairs. Since the election of Donald Trump in November, it seems like many in the country could use a little inspiration Rogue One's titular band of rebels fighting to gain the upper hand over an oppressive dictatorship.
Inverse talked to theatergoers the night of the Rogue One premiere and on its official first day, December 16. And when 12 Star Wars fans were asked the same question — "What is it about Star Wars that gives you hope?" — the answers shone a light on what makes Star Wars still so important 40 years after the franchise launched.
1. Darwin Higgins
"It's a really good universe in the movie that would probably be good in reality. It would probably make a lot of things better — especially with our new president. It sure does give me hope for the future. More hope for a fantasy that we could probably have."
2. Ronnie
"[There's] less hope since Han Solo died."
3. Sam Lowen
"It's mostly the nostalgia, I think, that gives me some hope. I was six when I first saw the original movies so just that feeling of being a kid again in a magical world, basically. It gives me some hope for the future as long as they keep making the movies. It's something to look forward to."
4. Sarah Lowen
"A small group of Rebels making a difference. Everything will be cool as long as we can keep living out our fantasy."
5. Joseph Guzman
"[It gives me hope] that people and entire groups around the world can enjoy a single event like a movie. That anybody in any nation could enjoy this film together. The banding together for a common cause by the rebels is amazing."
6. Daniel Morre
"Is it okay to say nothing? Nothing in particular. Especially now that Trump is president. It only reminds me of the potential for tyranny to overtake the world, like Trump."
7. Elliot Anderson
"I think the fact that when I was a kid my dad used to bring me to Star Wars, and he would tell me about when he was younger and he would go to Star Wars with his dad. Like, in some sense, the nostalgia of the trilogy kind of gives me hope. It's comforting knowing that in the future I could do the same thing with my children."
8. Nate Cotanch
"I'd say along those same lines. Growing up with it as a kid and everything. And the whole story. You have this Empire that's so freaking huge and menacing. Think about it, you have this little Rebellion that can take them on. It makes you want to be a part of the Rebellion."
9. Gianni Mercado
"It's something that's always giving hope, especially with everything happening nowadays you can just look away. It's fiction. So you go to a different world. Star Wars has been out for so long so you already know how the world works; when you go and watch the movie, you're just forgetting about what's happening nowadays and just go to see Star Wars. You get to clean your mind a little bit. You get to live in this world. Then you come out here and you've just come from a different planet, and you're thinking, 'Hey they did this there, so maybe we can do this here.'"
10. Anonymous
"I didn't expect to get philosophical today. I mean, it's supposed to be like the good guys winning and obviously it's David against Goliath. They're always shorthanded against the Empire — size doesn't matter, that's my answer!"
11. Shinthia Hossain
"Well, we're watching Rogue One, right? So it's all about rebellion and based on what's going on in America right now, it gives me hope because hopefully the Rebellion wins."