Spotify Adds a Clever 'Star Wars' Easter Egg for 'Rogue One'
Now you just have to decide if you're a Jedi or a Sith.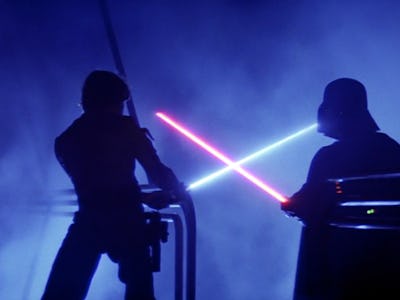 Starwars.com
Spotify has introduced a new feature in honor of the Rogue One: A Star Wars Story premiere that turns its horizontal playbar into a lightsaber. Click the handle of the "elegant weapon from a more civilized age" and it'll shift from green to blue to Sith red.
Even if someone's never seen a Star Wars movie before, there's a good chance they could hum along to the theme music.
The soundtrack for Rogue One carries on that same tradition with Michael Giacchino picking up the conductor's baton. Clearly, Spotify recognizes the genius of Star Wars soundtracks because the digital music streaming service added the aforementioned lightsaber feature to the Original Motion Picture Soundtrack for the film.
But digging further reveals that the feature is available for every Star Wars soundtrack in the franchise from A New Hope to The Force Awakens, making the Force by far the most influential thing on Spotify for the day.
Spotify hasn't gotten back to Inverse for comment.
The only thing this feature needs a lightsaber sound effect, of which verify the spelling, but there are some pretty good guesses on Reddit. Although, that might distract from the music.
It almost makes you forget there are no lightsaber duels in the movie Rogue One: A Star Wars Story, which if you haven't heard, is now in theaters.