'Sense8' Christmas Trailer Unites the Cluster Like Never Before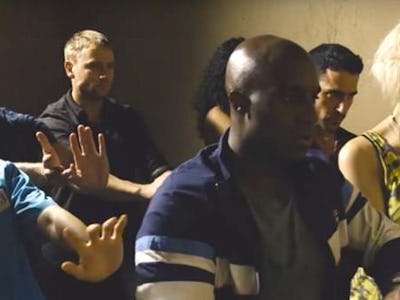 Netflix/Youtube
As the cluster grows more unified during the holiday season, Whispers looms in the back of Will's mind.
The official trailer for the December 23 Sense8 Christmas special has arrived. And while fans of the Wachowski siblings's international, deep-ranging sci-fi Netflix spectacular may be chomping at the bit for any new content from the cluster, one of its members, Will Gorski, isn't finding too much joy this holiday season.
A present threat from Whispers — the terroristic, mind-warping baddie who gained access to Will's conscious in the season 1 finale — hangs over the group. The trailer features a short scene of Will and Riley Blue being cute in the snow before Whispers shows up, and Will collapses.
Whispers being a part of Will's mind introduces a threat to the seven other members of his cluster. Capheus, Sun, Nomi, Kala, Riley, Wolfgang, and Lito are all dealing with their own realities — and Capheus actor Aml Ameen was succeeded by Toby Onwumere, so fans will have to adjust to an entirely new face in the family. But, despite their troubles, the trailer confirms a sense of peace.
As always, Sense8 manages to weave in themes of belonging, family, and acceptance. A panicking, belligerent Wolfgang is calmed by Sun before the two of them and Will team together to take down Wolfgang's attackers. Lito and Hernando's relationship looks to be heart-wrenching as ever. The whole gang meditates together in Sun's cell.
Despite the difficulties presented by Whisper, fans of the show can take solace in knowing that the special will probably end on a happy, hugging, family-centric note. And isn't that was the holidays are all about?
The Sense8 Christmas special will be available to stream on Netflix on December 23.