'Rogue One' Composer Inspired by Vintage 'Star Wars' Toys
The classic Kenner 'Star Wars' action figures watched over the creation of new music.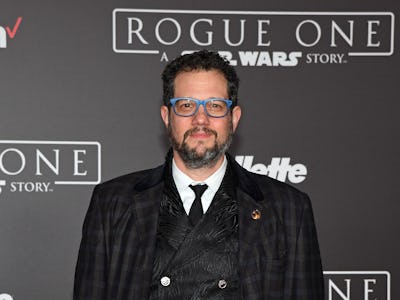 Getty Images / Ethan Miller
If Star Wars fans were worried about the legitimacy of Michael Giacchino's new score for Rogue One, they shouldn't be: The composer is a hardcore fan with a pretty impressive action figure collection.
After Alexandre Desplat quit composing the score, Giacchino had to create the music for the film in just four and a half weeks, but it looks like he had help from his childhood. As featured in Time on Wednesday, a line-up of plastic versions of Luke Skywalker, Princess Leia, Obi-Wan Kenobi and others helped Giacchino power through his daunting task.
Notably, this particular line-up of action figures looks like it comes from 1978. When Star Wars actually came out in 1977, there weren't zero action figures available at first. But toy producer Kenner invented a cunning work-around: they encouraged fans to purchase an empty "Early Bird" box which was essentially a display for unreleased action figures. Giacchino's toys seem to be standing in front of art from that "Early Bird" promotion.
Giacchino told Time Magazine that his process of creating new Star Wars music was made easier because "using stuff we all knew in our hearts and heads added a humanity and a soul." Fans won't have long to see if he was right. Rogue One is out in wide release on Friday, December 16.