The Polar Vortex Will Come in Two Waves: Everything We Know So Far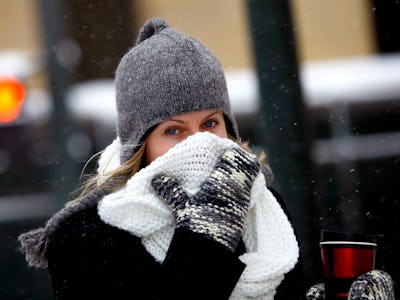 Getty Images / Joshua Lott
It's about to get cold in the continental United States. The dreaded polar vortex is back, and while many people know this means temperatures are going to drop, what exactly can we expect from this ominous-sounding phenomenon?
"Some cities could see their coldest December temperatures in a few years thanks to a duo of arctic cold intrusions," reports the Weather Channel about the coming cold.
The first wave:
The National Weather Service warned on Wednesday that North Dakota could see wind chills of between -35 and -45 degrees Fahrenheit as well as four inches of snow in some places. Those temperatures are low enough to kill someone or to cause frostbite to set into somebody's skin after just 30 minutes of exposure. The first wave is Wednesday and Thursday.
The second wave:
The second wave of this 2016 polar vortex — starting Friday and lasting into the weekend — could be colder than the first wave.
Here's the full release from the National Weather Service:
Much of the West will remain in an active wet pattern over the next few days. A nearly continuous stream of moisture will interact will a Pacific low pressure system pushing inland across northern California and the Pacific Northwest; which will spread rain and mountain snow from the West coast to Great Basin/Intermountain West. Snow levels will rise during the overnight hours and into Thursday morning as warm air lifts into the region. Areas along and north of the advancing warm front may have mixed precipitation (rain/snow, freezing rain and/or sleet); primarily at lower elevations where cold air could remain trapped for a longer period of time.
The upper-level trough associated with this storm system is forecast to push further inland Thursday night and into Friday; which will cause the snow levels to lower again across the Pacific Northwest. Heavy mountain snow and valley rain will also spread into the central Rockies by Thursday night and Friday - some locations may have significant snow or ice accumulations.
Further to the south, flooding rains will be possible across much of central and northern California. Please refer to products issued by local NWS forecast offices for further details specific to your area. Surface high pressure, moving southward through the Great Plains/Midwest in the wake of a fast-moving cold front, will allow arctic air to overspread much of the central and eastern states. Forecast highs are expected to be 20 to 30 degrees below average over the north-central tier of the U.S. The passage of the cold front will help generate another round of heavy snow/lake effect snow of the Great Lakes region and areas downwind. Another arctic high sliding southward into the High Plains will bring another surge of frigid air into the northern High Plains. Moisture associated with the western U.S. storm system will begin to overspread the central U.S. - generating snow Thursday night into Friday for the northern plains, with mixed precipitation possible across the central plains.
The first thing to note is that "polar vortexes" aren't new. The National Weather Service explains that a polar vortex is "a weather feature that has always been present" but "has only recently been popularized" as a term. The last notable polar vortex was from 2014, but it was preceded by cold snaps in 1977, 1985, and probably many other years prior.
It's also important to note that a polar vortex isn't directly responsible for winter storms of ice, snow, and frigid temperatures. They occur in the troposphere, high above the planet's surface, and can't be blamed for all the cold weather. Blaming a polar vortex for an inch of snow is about as accurate as saying "Thanks Obama" when you die in a video game.
But, just as Obama has surely beaten someone at a video game before, polar vortexes can influence the weather. Strong polar vortexes trap cold air at the North and South poles — hence the name — instead of letting it reach the middle of the Earth. Weak polar vortexes, on the other hand, let that cold air run rampant until it (potentially) reaches some parts of the United States.
Forget stopping a runny nose or making sure your phone doesn't die in the cold. Right now your best option is to keep an eye on the weather, bundle up inside, and #netflixanddontgetfrostbite with some new videos. Polar vortexes aren't new, and they aren't storms, but they are serious.